June 18, 2015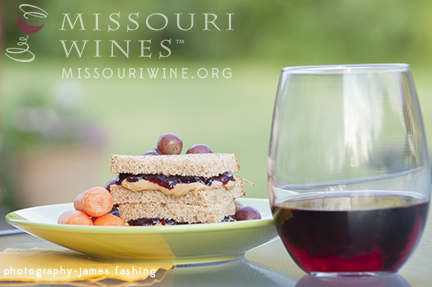 June 18th is National Picnic Day and that inspired us to put together tips and ideas for planning the perfect picnic. The truth is a picnic can be just about anything you'd like it to be, but these tips and tricks may make your next outdoor dining adventure a little easier.
Location, location, location!
It is vitally important to keep in mind the location when you are planning for a picnic. Where you will be often dictates what you need to pack. For example, if there are tables and seating available, you won't need to pack a blanket or chairs. If you're planning to picnic at a Missouri winery, be sure to call ahead and confirm they allow outside food. Many do, but not all.
 Packing tips:
It's usually best to plan for two primary containers… a basket/bag/backpack to hold your tableware (plates, utensils, napkins, glasses/cups, etc.) and nonperishable items, and a cooler to hold your cold foods and beverages.

Pack in reverse. Setting up your picnic will be a breeze if you pack in order of what you'll need first. (i.e. Your blanket should be the last thing you pack since it is the first thing you'll need to set up.)

While we're on the topic of blankets, keep in mind there are lots of options in addition to blankets for seating. Lightweight jute rugs, vinyl tablecloths, and large beach towels all work just as well as the traditional blanket or quilt.

Picnics usually take place a substantial distance from home, making it particularly inconvenient if you forget something. When making your packing list, check every item off the list as it is packed to ensure you have everything you need for a lovely time.

Don't forget the corkscrew, bottle opener, and a sharp knife. These are tools that simply cannot be replaced by plastic cutlery. While you are at it, it's not a bad idea to include a small cutting board.

Pack a few plastic bags. These come in handy for dirty dishes and more when you are cleaning up after your picnic.

A tip for saving space while packing your cooler is to freeze bottles of water or lemonade. They will thaw and can be enjoyed during your picnic, but will help keep your food cold in the meantime.
Choosing the food and beverages:
Mayonnaise can spoil rather quickly and become unsafe to eat. If you're packing sandwiches consider some alternatives. Maybe ditch the mayo for mustard, pesto or hummus. This sandwich and wine pairing guide will help you select the best wines to accompany your meal.
An assortment of cheeses, fruits, spreads, and crackers or breads are great for a picnic. Be sure to keep the cheeses cold in your cooler and try to closely estimate how much food you'll need. Leftovers aren't likely to be a good idea due to their perishable nature. This cheese and wine guide will help you pick the perfect wines.
Salads and fresh fruits and vegetables are ideal to accompany most picnic foods. This food and wine guide is a great place to start matching up your menu with wine. Keep in mind, what grows together, goes together!

Pack some frozen grapes to add to your glass of chilled wine to keep it cool throughout your picnic without watering down your vino.
We hope these tips for planning the perfect picnic come in handy soon.
Missouri wine pairs well with picnics!