Pairing MO Wine with Salads
June 29, 2017
Printer Friendly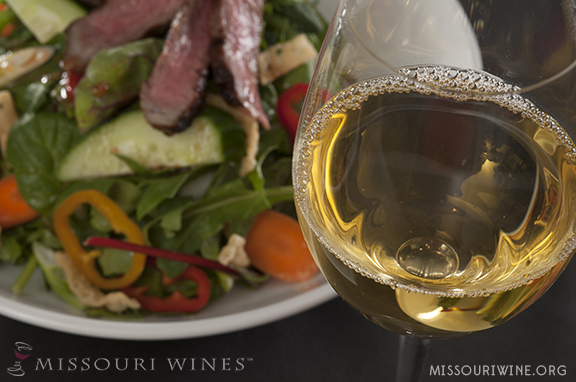 Salads are a summer staple at lunch and dinner time. They're nice and light on a warm day and a great way to use fresh, seasonal vegetables. They can present a little bit of a challenge when it comes to pairing them with your favorite wines though. Let's break down the best way to find the perfect local wine to go with your summer salad favorites.
The first and most important thing to do is identify what is the most prominent flavor of the salad. Is it the dressing, or maybe it's the protein or a flavorful cheese? Picking out the overarching flavor is a great way to start your pairing selection. For example, if the dressing is a tart, citrusy vinaigrette, look for a wine with bright acidity and citrus notes such as a delicious Missouri Vidal Blanc. Once you've identified the primary flavor profile, use this interactive guide to match the ideal wine.
Pairing suggestions:
Citrus Salad with Grilled Chicken + Vidal Blanc
Southwest Salad with Seasoned Beef and Grilled Corn + Rosé
Goat Cheese and Berry Salad + Seyval Blanc
Spinach Salad with Bacon and Bleu Cheese + Chambourcin
Chef Salad + Chardonel
Spicy Asian Chicken Salad + Vignoles
Cheers to salad season! Share your favorite summer salad and Missouri wine pairing with us on social media by using the hashtag #MOwine.