Norton: The Show-Me Standout
January 07, 2020
Printer Friendly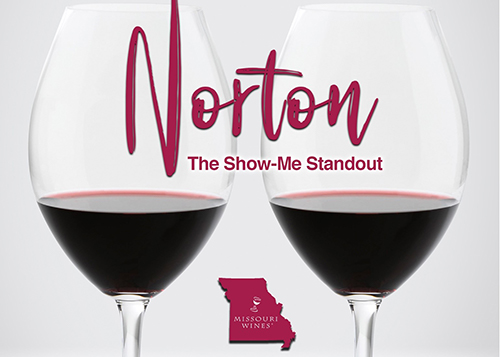 During the month of January, discover the red wine that stands out from the rest. Norton is a favorite among those who prefer a dry, red wine. Bold in nature, this Show-Me standout has an award-winning legacy that dates back more than a century ago.
Although the grape varietal was discovered in Virginia, it found a home and notoriety in Missouri. As early as the 1840s, Norton took root in Hermann, and it wasn't long before Missouri's signature red wine began garnering worldwide recognition. In 1873, a Norton vintage from a Hermann winery won gold at the World's Fair in Vienna.
Today, Missouri winemakers carry on the legacy established by German settlers in Hermann. Their award-winning Norton wines are honored at the national and international level. Since 2011, the best Norton in the state has been awarded the C.V. Riley award at the annual Missouri Wine Competition. The award is named in honor of Charles Valentine Riley, the state's first appointed entomologist who is credited with helping save the French wine industry. Riley discovered that American rootstock were naturally resistant to the Phylloxera, a pest that nearly decimated the vineyards in France.
C.V. Riley winners for best Norton
2011: Stone Hill Winery - 2009 Estate Bottle Norton
2012: Montelle Winery – 2009 Norton
2013: Stone Hill Winery - 2011 Cross J Vineyard Norton
2014: Stone Hill Winery - 2012 Cross J Vineyard Norton
2015: Chandler Hill Vineyards - 2013 Savage Norton
2016: Noboleis Vineyards - 2014 Norton
2017: Stone Hill Winery - 2015 Norton
2018: Augusta Winery - 2016 Norton Estate Bottled
2019: Stone Hill Winery - 2017 Estate Bottled Norton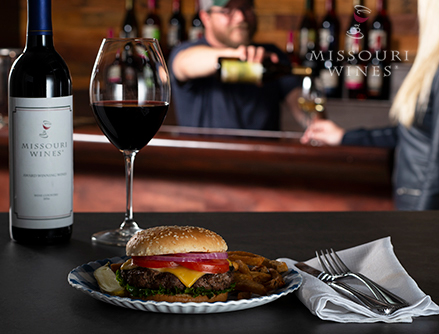 Norton is a full-bodied dry, red wine with dark fruit and spicy oak flavors, complemented by aromas of dark berries and cherries. The All-American wine pairs excellently with beef, as well as a variety of other foods, including smoked cheeses, salmon and dark chocolate.
Norton is the most popular grape grown in Missouri. Hardy and incredibly disease resistant, the varietal thrives on 300 acres in the state, accounting for nearly 18 percent of the overall total. It was designated Missouri's official state grape in 2003.
During the month of January, discover the bold, red wine that has delighted critics for more than a century. Experience Norton, the Show-Me Standout.