January 22, 2019
Attention: we just brought meatballs to a whole new level.
You're in for a treat with this homestyle meatball recipe – it even includes wine! These hearty meatballs are the perfect choice for any event, gathering or even a comfy night in. 
So go ahead, take some time to whip up these juicy, mouthwatering, flavorful, cheesy meatballs featuring Missouri's norton.
Yields: 4 servings | Prep Time: 45 minutes | Total Time: ~120 minutes
INGREDIENTS
Meatballs
1 Ib      Ground beef
1 ½ tspMinced garlic
½ c       Shredded mozzarella cheese
¼ c       Parmesan
2 tbsp  Parsley
1          Large egg        
1 tsp    Salt
½ tsp   Black paper
2 tbsp  Extra virgin olive oil 
Sauce
½         Small yellow onion
½ tsp   Minced garlic
Extra virgin olive oil 
1 tbsp  Tomato paste
1 c       Dry red wine – Missouri Norton
½ c      Beef broth
1 can   (15 oz.) Whole plum tomato
½         Sprig of rosemary
¼ tsp   Salt
            Black pepper to taste
INSTRUCTIONS
Make the meatballs
In a large bowl, combine beef, garlic, mozzarella, parmesan, parsley, egg, salt and pepper.  Form into 12-16 meatballs. 
In a large skillet, over medium heat, heat oil. Add meatballs and cook, turning occasionally, until golden on all sides, about 30 minutes. Remove from skillet and place on a paper towel-lined plate. Drain grease from pan if necessary. 
Make the sauce
Dice the onion. In the same large skillet, over medium heat, sauté the onion and garlic in the olive oil until very soft, about 10 minutes. (Turn the skillet down if necessary.) 
Stir in the tomato paste and fry for a minute or two, stirring until well-incorporated. Pour in the wine and broth and bring to a simmer, then add the tomatoes, salt and a generous amount of black pepper. Place the rosemary sprig on top, bring to a simmer and cook for 30 - 60 minutes, covered. When the sauce develops a deep, rich flavor, turn off the heat and stir.  (If necessary, put sauce in a blender to get a finer consistency. However, if you like chunkier meatball sauce, a blender is not necessary.) 
Next, combine the wine sauce and meatballs in the skillet and let simmer for 5-10 minutes.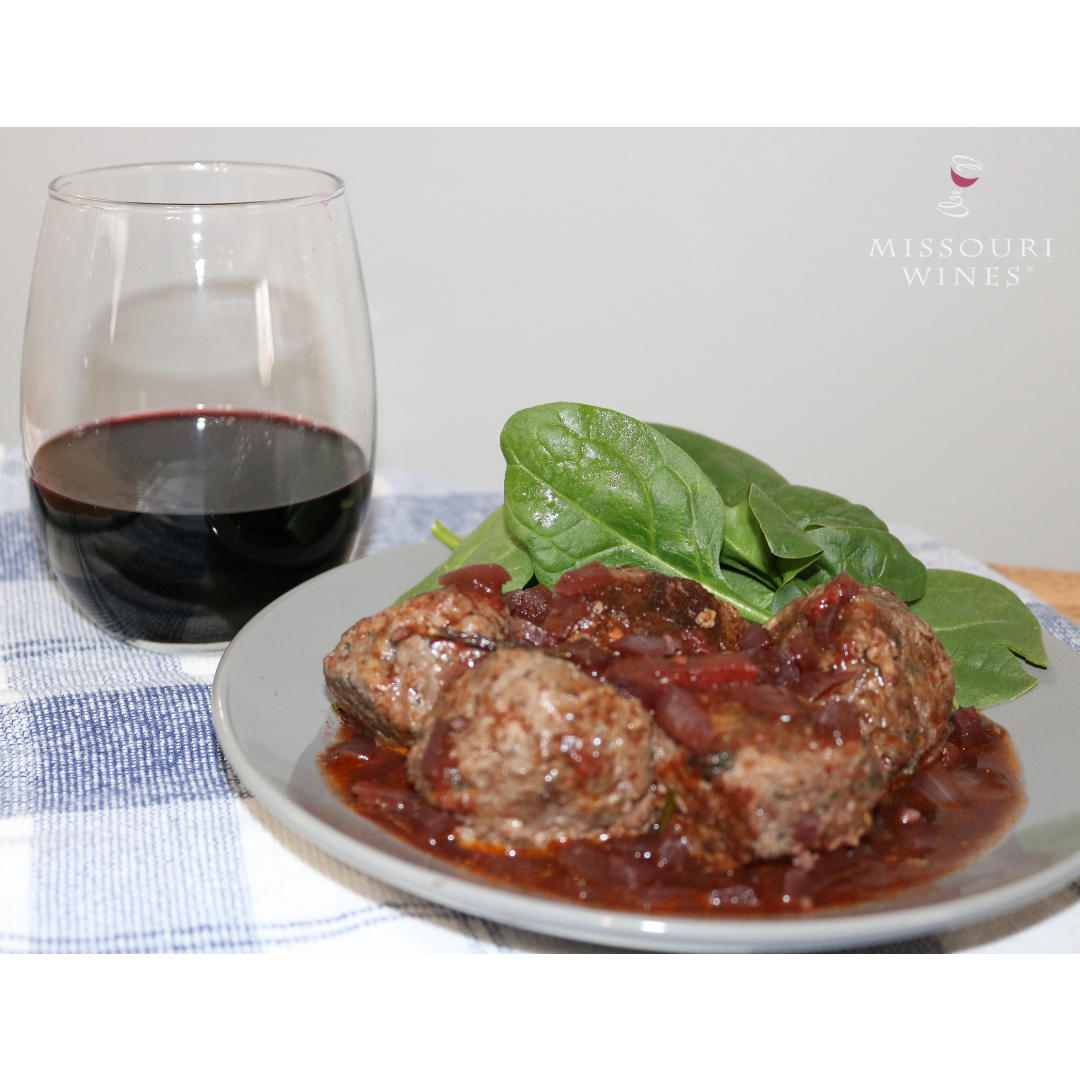 Enjoy our signature style!