November 19, 2013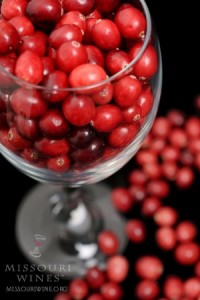 The cranberry is one of few fruits native to America that are grown commercially. [Fun Fact: Several popular Missouri grape varietals are also American natives; Catawba, Concord and Norton.] The fruit was used as food, fabric dye and a healing agent long before the settlers arrived. However, the cranberry's primary claim to fame these days is in the form of cranberry sauce accompanying turkey on the table at Thanksgiving. The traditional dish is celebrated by some and dreaded by others. Whichever group you identify with, here are some twists on the same-old-same-old that could make you look at cranberry sauce in a whole new way.
Adding a little orange to cranberry sauce is fairly common, so try this recipe as a base and explore several easy ways to spice it up. Try Chipotle for a little kick, or increase the decadence with truffle oil and chives. Do you smoke your turkey? If so, compliment it with this sweet and smoky version of the classic accoutrement. You can add a little zing with this lemon-tarragon version or some Asian flare with ginger-miso.
Wine makes everything better, right? If this is your mantra, you'll definitely be a fan of this mulled wine cranberry sauce recipe. Use a young, fruit forward Chambourcin, or for a bolder flavor add Norton. Do you prefer your cranberry sauce on the sweeter side? What could be more decadent than Missouri Port? Try this recipe for Port-cranberry sauce to satisfy that sweet tooth and compliment the savory turkey.
Bring one of these unique twists on the traditional cranberry sauce to your Thanksgiving celebration and you'll be the talk of the table. Homemade sauce is arguably better than the gelatinous can, however, there can still be a place for the quintessential can in the festivities. Cranberry Carving is a fun activity that lets your loved ones, young and old, unleash their creativity. The supply list is short, but the possibilities are endless!