MVP Extravaganza- A Night to Remember
March 29, 2018
Printer Friendly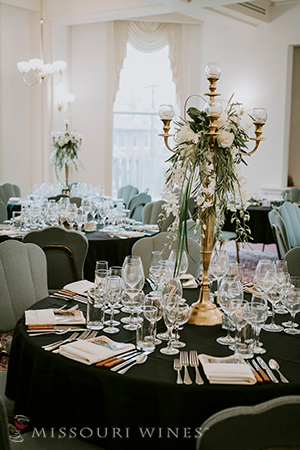 Fifty thousand points. Let that sink in… fifty thousand! That is a lot of points and it's exactly how many were needed to reserve a seat for yourself and a guest at the 2018 MVP Extravaganza, which took place on Saturday, March 24 in Columbia, Mo. Twenty-one dedicated MVPs redeemed this top-tier reward as part of the Missouri Winery Visitors Program.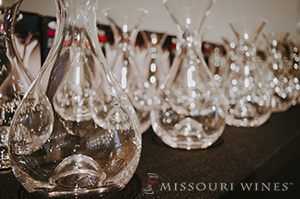 Esteemed guests were greeted with a specialty wine cocktail upon their arrival and welcomed into a reception featuring a spread of gourmet appetizers, all paired with award-winning Missouri wines from across the state. During the reception, MVPs had the opportunity to mix and mingle with winemakers and industry leaders, take advantage of the photo booth for a fun snap, and enjoy the live pianist tickling the keys.
After the reception, guests were ushered to a gourmet four course dinner perfectly paired with (you guessed it) award-winning Missouri wines. After a delicious meal, each MVP was honored with a commemorative gift, a specially etched decanter, and a fun gift they chose at random from a collection of great products and experiences donated by organizations across the state. Everyone joined in a celebratory toast recognizing the dedication and loyalty of the MVPs.
After dinner, guests enjoyed a decadent dessert reception where sweet treats were matched up with delicious Missouri wines or coffee. When it was time to say goodnight, each MVP received a swag bag full of goodies to take home with them.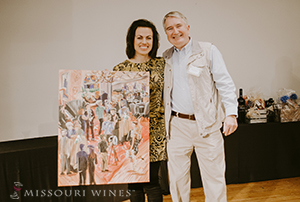 It was truly a night to remember and we want to thank all of the sponsors who helped us make this a wonderful experience for the MVPs. If this sounds like an event you would have loved to attend, keep an eye out for the next top-tier
reward
on the Missouri Winery Visitors Program. Start earning and saving those points!
Thank you to our sponsors: 
Dinner Sponsors- 
Missouri Pork Association
Missouri Beef Industry Council 
Winery Sponsors- 
Adam Puchta Winery 
Augusta Winery 
Balducci Vineyards 
Baltimore Bend Vineyards 
Edg-Clif Winery & Brewery 
KC Wineworks 
Ladoga Ridge Winery 
Les Bourgeois Vineyards (and Rocheport Distilling Company) 
Montelle Winery 
Noboleis Vineyards 
St. James WInery 
Stone Hill Winery 
Vox Vineyards
Windy Wine Co. 
Special Gift and Swag Sponsors- 
Adam Puchta Winery
Annie Gunns
Augusta Winegrowers Association
Barley Bus
Bed & Breakfast Inns of Missouri 
Candy Factory
Chocolate Chocolate Chocolate
Clinton Chamber of Commerce
Columbia Convention & Visitors Bureau
Feast Magazine
Hermann Wine Trail
KC Wineworks
Ladoga Ridge Winery 
Mississippi River Hills Wine Trail
Missouri Beef Industry Council
Missouri Cattlemen's 
Missouri Division of Tourism & Worlds/Oceans of Fun
Missouri Farm Bureau
Missouri Grown
Missouri Pork Association
Missouri Restaurant Association
Missouri State Fair
Missouri State Fair Foundation 
MO Corn
Ozark Mountain Wine Trail 
Route Du Vin Wine Trail
Springfield Convention & Visitors Bureau
St. Louis Science Center
Stone Hill Winery
Tan-Tar-A
The Rotary Club of Eastern Independence
Visit Cape
Visit KC
Vox Vineyards 
Washington Convention & Visitors Bureau
Willow Spring Mercantile
WineStein Trail