March 14, 2014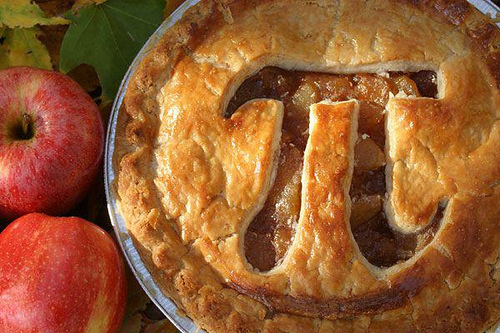 Pi Day appeals to mathematicians and foodies in equal measure. The ratio of a circle's circumference to its diameter is deliciously honored each year with appetizing pies.
People are fascinated by Pi, also known by the Greek symbol π, because it has no limits or patterns. Pi is often shown as 3.14159, but it has been calculated out to more than one trillion digits past the decimal point. Pi is commonly used in geometry formulas for finding the area of a circle or the volume of a cylinder.  The first large-scale Pi Day celebration was held in 1988 in San Francisco. Congress officially recognized Pi Day 21 years later in 2009. It is celebrated each year on March 14 in honor of Pi's first three numbers.
The possibilities are nearly as endless as Pi itself when it comes to pairing pies with Missouri wines. For a main course, chicken pot pie is a comforting dish that pairs well with Chardonel. This dry, full-bodied white wine is also a match with scrumptious lobster shepherd's pie. Cajun-style meat pies are a fried, handheld snack filled with seasoned ground beef, onions and chilies. Try this Louisiana original with the spicy, berry flavors of Norton, or tame the heat with a semi-sweet Traminette. Who could forget one of the most popular circular foods? Pizza pie! Pair wine with pizza by matching the sauce to a Missouri wine.
Ready to explore pie's sweeter side? Classic apple pie strikes a tasty balance with the natural acidity of Traminette. It's also nice with a mature port-style wine. The sugary-tart perfection of key lime pie is delightful with the sweet, citrus flavors in Vignoles. Fresh fruit cobblers embrace the earthy, cherry aromas of Chambourcin. A glass of Concord wine and a slice of grape pie is a double dose of jammy goodness.
It's easy as pie to enjoy Missouri's award-winning wines on Pi(e) Day.
Missouri wines pair well with Pi(e)!