November 30, 2016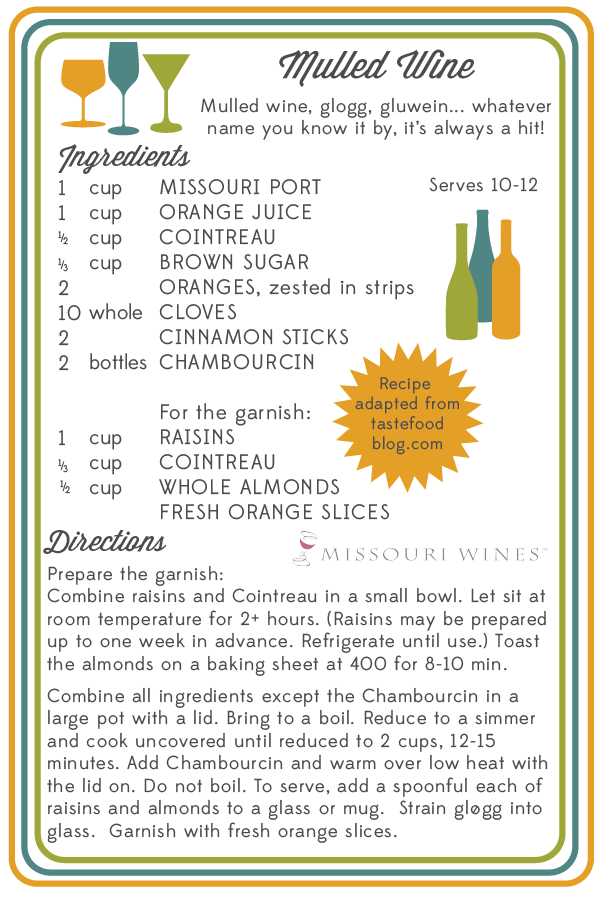 Mulled Wine Recipe 
Ingredients: 
1 cup - Missouri port-style wine 
1 cup - Orange juice 
1/2 cup - Cointreau (orange liqueur) 
1/2 cup - Brown sugar 
2 - Oranges, zested in strips 
10 - Cloves, whole 
2 - Cinnamon sticks 
2 bottles - Missouri Chambourcin 
For the garnish: 
1 cup - Raisins 
1/3 cup - Cointreau 
1/2 cup - Almonds, whole 
Fresh orange slices 
Directions: 
Prepare the garnish- 
Combine raisins and Cointreau in a small bowl. Let sit at room temperature for 2+ hours. (Raisins may prepares up to one week in advance. Refrigerate unil use.) Toast the almonds on a baking sheet at 400 degrees F for 8-10 minutes. 
Combine all ingredients except the Chamboucin in a large pot with a lid. Bring to a boil. Reduce to a simmer and cook uncovered until reduced to approximately 2 cups, 12-15 minutes. Add Chambourcin and warm over low heat with the lid on. Do not boil. To serve, add a spoonful of each the raisins and almonds to a glass or mug. Strain the mulled wine into each glass. Garnish with fresh orange slices. 
Recipe adapted from tastefoodblog.com.