Missouri's Best Kept Red Wine Secret
November 28, 2017
Printer Friendly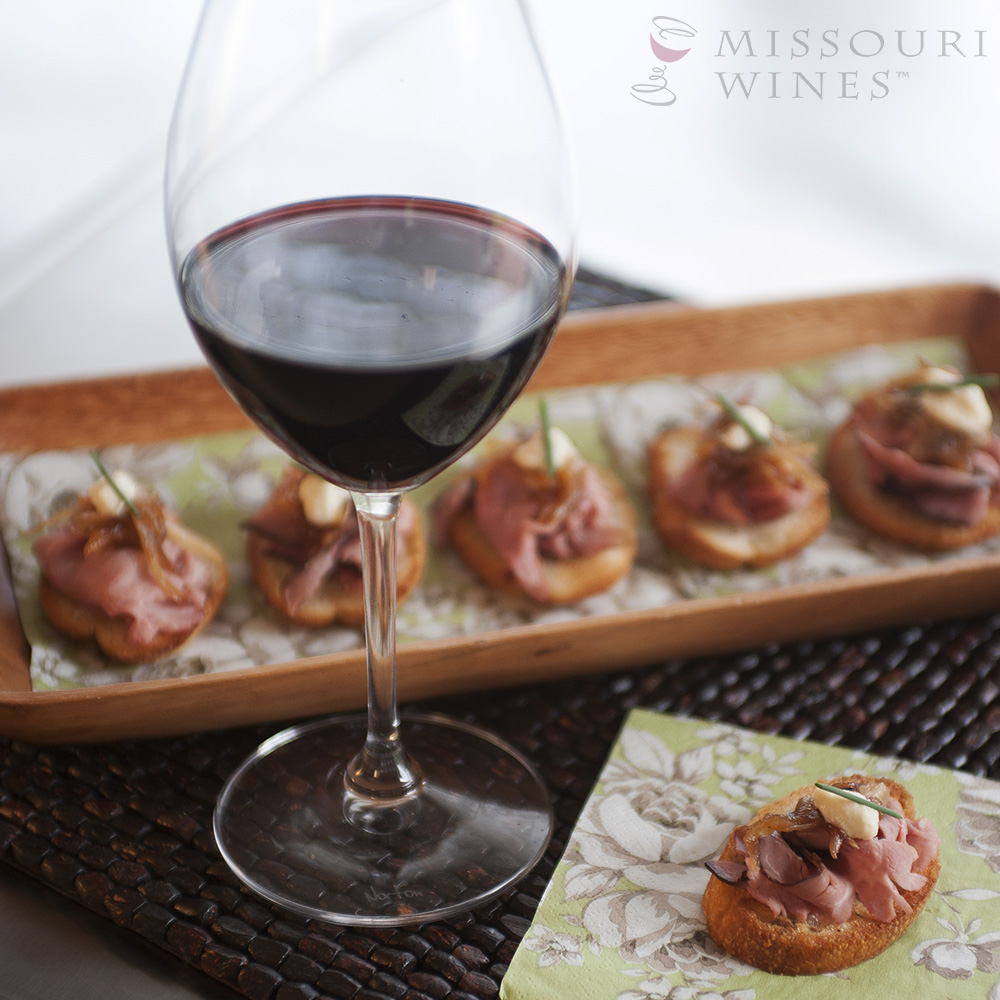 Chambourcin is a French-American hybrid that is most commonly used to make dry reds. It's often overshadowed by Missouri's official state grape, Norton, but for many in the Missouri wine industry it is considered a deliciously versatile varietal. It's fair to say Chambourcin is the best kept red wine secret in Missouri wine country.
One reason to love Chambourcin is its food pairing potential according to Catherine Neville, Vice President of Niche Publishing – Feast & Ladue News.
"This wonderful grape with a beautiful name makes equally beautiful wines. Lighter in body and flavor than Norton, Chambourcin plays well with a wide variety of foods. Cheese is a particularly good pair, as is pork. Try Chambourcin paired with barbecue. The smoky richness of low and slow cooking is an excellent foil to Chambourcin's backbone and acidity. If you're looking for a bottle of red wine to pair with your Thanksgiving feast, you can't go wrong with Chambourcin. Because it is fruity and has a relatively light body, it won't overwhelm delicate flavors on the table, and enhances ones that are more robust. Chambourcin is gaining in popularity and for good reason. It is offered by a large number of our local wineries, so try vintages from various winemakers and see how the varietal can be made in different styles by different folks. Enjoy!"
It's an easy to enjoy varietal according to Glenn Bardgett, CS, CSW - Wine Director at Annie Gunn's/Smoke House Market.
"Although Norton is our State grape and gets all the love, Chambourcin offers a familiar style and amazing value. Very reminiscent of the lovely reds of southern France, Chambourcin needs little to no aging, tastes great even with a light chill in warm weather, and pairs wonderfully with chicken or grilled seafood. Chambourcin also loves medium strong cheeses and loves to make burgers happy."
From a winemaker's perspective, Chambourcin offers a lot of potential and versatility. James Lowery from KC Wineworks says, "Chambourcin is honestly probably the best grape grown widely in the Midwest. It can make fantastic varietal wines from the lightest rosés but has enough flavor intensity to stand up to barrel aging and of course it excels in blends. I personally think it really shines when it is treated with a very light touch."
Now you are in-the-know about this delicious red wine too. (So much for secrets.) Time to enjoy some Chambourcin. Cheers!