January 19, 2016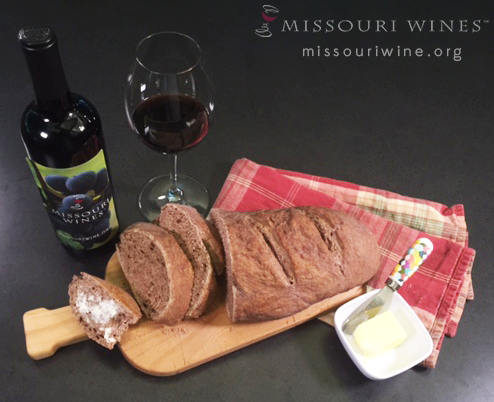 Ingredients: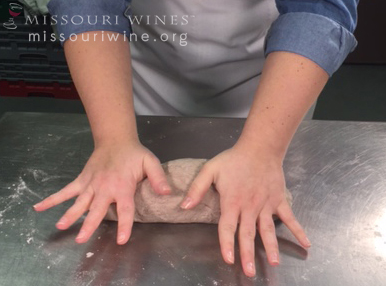 3 cups         Sifted unbleached bread flour 
1 tbsp        Baking powder
2 tbsp        Sugar
1 1/3 cups    Dry Missouri wine (Norton works well*)
1 tbsp        Melted butter 
Directions: 
Preheat the oven to 375 degrees Fahrenheit. 
Combine the dry ingredients in a large mixing bowl. Whisk to evenly distribute. 
Make a well in the middle of the dry ingredients; pour in the wine.
Stir well until the mixture is mostly combined. 
Turn the dough and leftover flour mixture onto a flat surface dusted with light layer of flour. 
Knead the dough for 3-5 minutes to incorporate the last of the flour mixture and create smooth dough. Shape the dough into an oblong, bâtard shape and place it on a parchment lined cookie sheet. [You can do other shapes, but you'll need to adjust the baking time accordingly as it won't take as long with smaller shapes.]
Brush the loaf with melted butter and cut three ¼ inch deep scores diagonally in the top of the loaf. 
Bake for 30-35 minutes at 375 degrees Fahrenheit until the crust is browned slightly. Let cool for at least five minutes before cutting and serving.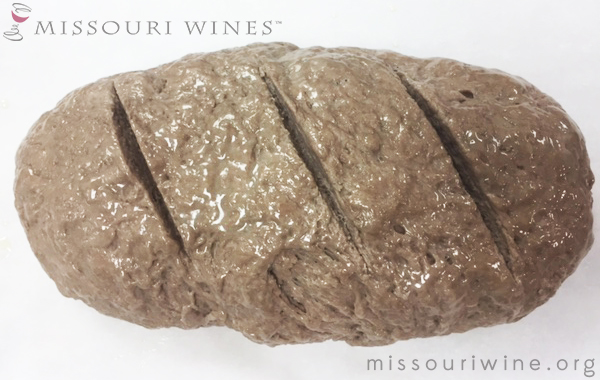 * You can use any type of wine you like, but Norton adds a nice, strong flavor and aroma. If you choose to use a sweeter wine, omit the sugar in the recipe. This bread is best fresh and hot, but will keep in an air tight container for 3-5 days. 
Try this recipe out today for a delicious and unique treat! 
www.youtube.com/watch?v=dnmA30ySOgI&feature=youtu
Click play to learn how you can make some Missouri Wine Quick Bread!