Missouri Wine Country Couples
March 12, 2020
Printer Friendly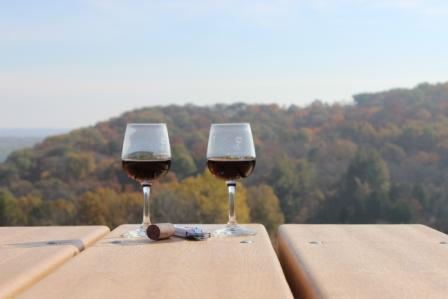 Missouri wine country is a beautiful place to explore. What makes the journey even more special are the friendships you make along the way. If you've visited Missouri wineries, chances are you may have met the Bowers and Rombachs, two couples with a mission to see every winery in the state.
Conrad and Linda Bowers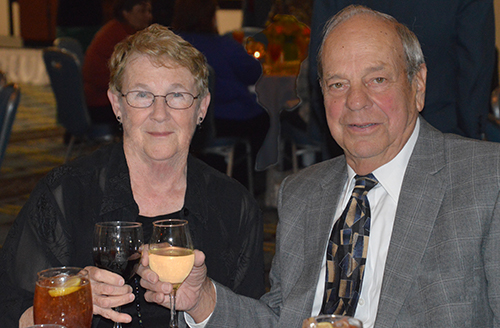 Conrad and Linda Bowers are seasoned travelers. Their explorations have taken them all over the United States, as well as abroad. In 2017, they were at a crossroads – sort of. They had just finished a multi-year travel book detailing their visits to all of the 50 state capitols. While enjoying lunch with their son and his wife, the St. Louis couple decided they would devote the next chapter of their lives to exploring their home state, but where to next? The possibilities were endless. After all, Missouri is called the Show-Me State for a reason. As the couples discussed a few ideas, it didn't take long for them to realize that the perfect idea was right in their grasp. With a glass of delicious Missouri wine in their hands, they toasted to a new adventure – exploring Missouri wine country.
Conrad and Linda set an ambitious goal of visiting every winery in Missouri, a plan that would take them to all four corners of the state and in-between. "Our intention was to enjoy trips to parts of the state we had not visited, while learning more about the aspects of winemaking and the history of the wine industry in Missouri," said Conrad. During one of these visits, they learned about the Missouri Winery Visitors Program (MVP) and decided to join. MVP is a program that rewards people for exploring Missouri wineries. While not all of Missouri's wineries participate in the program, a great majority of them do. During their involvement in MVP, Conrad and Linda have racked up an impressive number of points.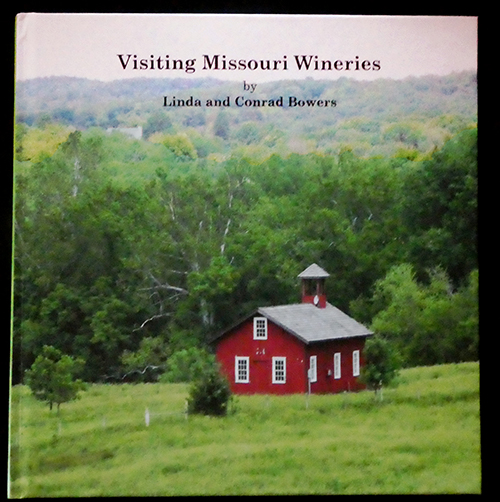 The retired couple's adventures over the span of three years are chronicled in their book titled "Visiting Missouri Wineries." While they enjoy sharing their knowledge of Missouri wineries and wines, there is one question that Conrad and Linda have difficulty answering. After exploring every winery in the state, the couple finds it impossible to pinpoint their favorite because each winery is unique and offers a variety of amenities and views. Still, Conrad says there is one thing they enjoy the most during their visits –visiting with many of the owners. "It is interesting to see how various wineries approach the winemaking process." And, as far as a favorite wine, the couple readily admits that they prefer dry red wines, especially Norton.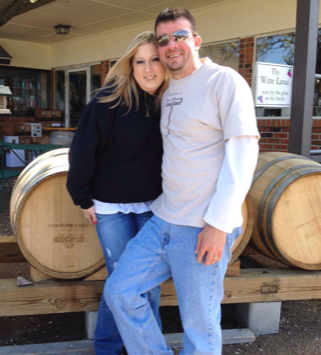 Scott and Tonya Rombach
Scott and Tonya Rombach's enthusiasm for Missouri wines began with an unusual gift. In 2006, a friend gave Scott approximately 40 Chambourcin and Cayuga vines. Not one to back down from a challenge, he planted a vineyard in their backyard. However, the couple knew very little about winemaking. In an effort to immerse themselves in the wine industry and pick up a few pointers, they began planning road trips and visiting wineries.
Over the past 14 years, the Rombach's journeys have taken them all over the state. Like Conrad and Linda, they became interested in MVP during their travels. Scott and Tonya enjoy discovering new wines while meeting winery owners and winemakers. The couple document these adventures on their Facebook page, Rombach's Missouri Winery Review.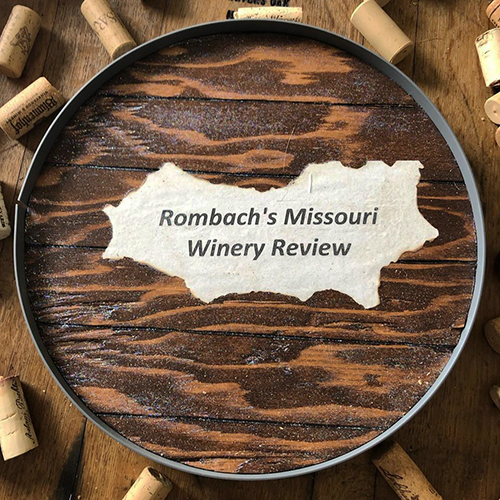 A skilled craftsman, Scott finds inspiration for his projects at Missouri wineries. Two of his favorite projects, a unique table and American flag, feature wood from wine barrels. Scott's Facebook page, Basement Projects Woodworking, highlights some of his woodworking projects.

Scott and Tonya are nearly finished with their goal of visiting all of the wineries in the state. They intend to hit the road again this year and check off the ones that still remain on their bucket list, making new friends and collecting memories - and MVP tickets - as they go.