December 10, 2013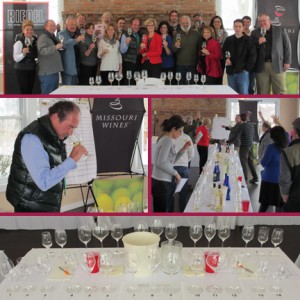 Riedel Crystal has been producing glassware for more than 250 years and 11 generations. Riedel is recognized worldwide for designing and producing the highest quality wine glasses. Riedel began making varietal specific glasses to highlight the unique characteristics of different grapes. In 2009, Riedel and the Missouri Wine Industry worked together to select a glass for the popular Norton varietal. We're very excited to announce that we're partnering again to select a glass that best highlights another popular Missouri varietal… Vignoles.
On December 6th, Georg Riedel, 10th generation head of Riedel, flew to Missouri to lead a workshop of winemakers and industry professionals. Participants evaluated 14 glasses, looking for the glass that best translated the "message" of Vignoles (aroma, acidity, balance, etc.). According to Riedel, shape, size and rim diameter are the three variables to consider when evaluating varietal specific glassware.
After much deliberation and discussion, it came down to two glasses. The votes were so close, Georg instructed the participants to take both glasses with them and do more comparison and consideration with their colleagues. Stay tuned to see what glass they choose!
Missouri wine pairs well with Riedel glassware!