November 21, 2013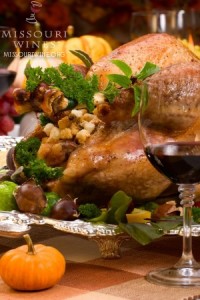 The Thanksgiving feast can be a tad overwhelming. Let our friends at Feast Magazine help. The November episode of Feast TV features tips and tricks from local chefs on how to have the perfect meal this holiday. And let Missouri Wines help you decide what wines to choose for perfect pairings.
The Turkey:
Turkey is the most traditional of main courses for Thanksgiving Dinner, aptly so. A well-executed turkey, whether roasted, smoked or deep-fried, is the definition of comfort-food. A rich, fruity Chambourcin with subtle tannin is a great compliment to savory turkey.
The Side Dishes:
Some look forward to the sides more than the main course. There is nothing wrong with that! If you tend to look past the turkey at the plethora of flavors that await, try these pairings for a holiday treat.
Potatoes-
Sweet potato or yam dishes are complimented wonderfully with the slight sweetness of Vignoles.
Green Bean Casserole–
This recipe is a gourmet twist on the classic green bean casserole with button mushrooms, parmesan and shallots. The best thing about this recipe… you can make it ahead of time. The creaminess of this dish and the mushrooms make it the perfect pair to a Chambourcin wine.
Stuffing (or Dressing)-
What would Thanksgiving be without the stuffing (or dressing if you don't want to actually cook it in the turkey)? Take your pick with this collection of 50 stuffing recipes. If you just can't wait for the main course to enjoy your stuffing, try these sausage and apple stuffing bites as a fun hors d'oeuvre. Stuffing is usually savory and often features spices that pair beautifully with Chamboucin, Missouri's varietal of the month for November (How appropriate!).
The Sweets–
Are you saving room for dessert? Us too! There's the Thanksgiving classic, pumpkin pie. Or you might lean toward apple or sweet potato pie. Do you prefer pecan pie? Are you a fan of chocolate? This recipe for chocolate pecan pie will take your sweet tooth to new heights. Pair any of your delectable desserts with a Catawba or Vignoles.
If you're looking for one wine that will best cover your entire festive feast, we recommend Chambourcin for your table. It is rich and fruity, but has a subtlety that will let your food shine alongside it, rather than running it over.
Missouri wine pairs well with holiday feasts!