October 07, 2013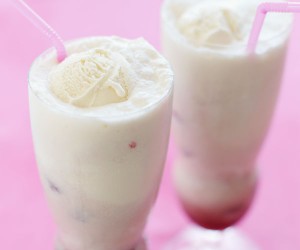 What better way to beat the heat than by combining your favorite summer sipper with your favorite frozen treat? Missouri wine and ice cream unites to create a seriously refreshing snack. And because July is National Ice Cream month, it's time to celebrate!
July was crowned the official month of ice cream in 1984 by President Ronald Reagan who recognized ice cream as a "fun and nutritious food" that is enjoyed by the majority of the nation's population.
According to the International Dairy Foods Association, about 9 percent of all the milk produced by U.S. dairy farmers is used to produce ice cream, which contributes significantly to the economic well-being of the nation's dairy industry. So you're actually doing good when you're eating ice cream!
This month, try making your own wine ice cream and toast to the deliciousness of the season with one of these fun, summer delights. 
Sweet Red Wine Ice Cream: Use a sweet red Missouri wine for this recipe. Combining the wine with cream and egg yolks will create a deliciously creamy consistency. Or try this recipe using vanilla extract, sugar and cream. Substitute your favorite fruit wine or other sweet Missouri wine.
Sparkling Wine Float with Sorbet: Choose a sparkling rosé for this recipe, which adds a scoop of raspberry sorbet and fresh berries to the flute. Or try this variation, which combines vanilla ice cream, framboise and a dry sparkling wine.
Fruit Wine Float: Drizzle your favorite Missouri mead or fruit wine over vanilla ice cream, garnish with some fresh fruit slices and you're set. Peach, strawberry, blackberry … the possibilities are endless!
Use your imagination. With high-quality wines and rich, velvety ice cream, you can't go wrong.