Have a Wine Themed Halloween
October 26, 2017
Printer Friendly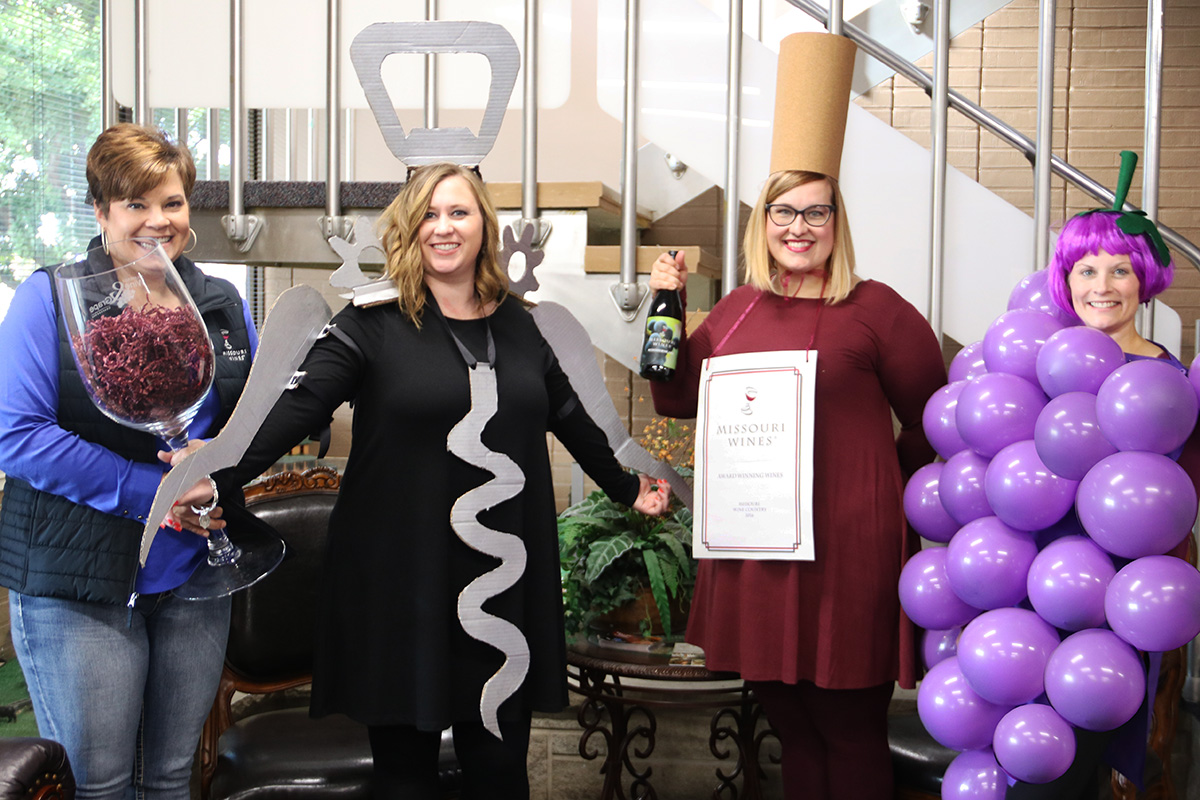 The scariest thing this Halloween would be running out of your favorite Missouri wine, right? Celebrate this fun time of year in a wine themed costume and wear your wine-lover, cork-dork, and oenophile identity proudly! Here are some ideas that take very little time and minimal supplies.
A Bunch of Grapes: You can decide which variety. We're thinking Norton.
This costume is pretty easy as long as your lungs hold out. Blow up several purple balloons, how many depends on the person wearing the costume. Attach the balloons by the tail with safety pins to a long purple shirt or piece of fabric, being careful not to pop the balloons in the process. Cut out some felt leaves and a stem and attach them to a purple wig or headband, and voila! You'll look like you've been picked fresh from the vine.
A Bottle of MO Wine: Customize the label to pay homage to your favorite wine.
Decked out in red wine colored clothing, make a wine label on a piece of poster board to hang around your neck or attach to your shirt. Make a cork "hat" with the rest of the posterboard and cork scrapbooking paper. Attach ribbon to either side and you're instantly transformed into a bottle of wine!
A Bottle Opener: It is one of the most useful tools we know of… that's for sure!
This is the most labor intensive costume, but all it takes is some creativity and a big cardboard box. Draw the pieces of a corkscrew on the cardboard. Cut them out (carefully!) and paint them silver. Attach them with black ribbon over black clothing for a fun and creative costume in a flash.
Missouri Wine's Biggest Fan: This is by far the simplest and quickest costume to throw together in a jiffy. Fill an oversized wine glass (here are some options on Amazon) with crumpled, wine-colored paper and you're set. You can also fill the glass with water and food coloring if you're feeling brave, but remember… the larger the glass, the bigger the slosh.
Cheers to a fun Halloween with MO wine!