Harvesting Norton with Dale Hollow Winery
October 05, 2021
Printer Friendly
Beth Dale jokingly nicknamed her family's farm in Stover, Missouri, "Dale Hollow" many years ago. The diversified farm that she and her husband, Kenny, owned was originally purchased by Melvin Dale (Kenny's father) in the 1950s. Their sons, Jesse and Asher, grew up in "the hollow" and moved away to start careers, Asher in chemistry and Jesse in finance.
Asher met Ana and Jesse met Katy – both couples wed, moved back to Stover and decided to start a winery on their family's land. There was only one obvious choice for the name, Dale Hollow Winery.
Vines were planted in the Spring of 2013. In 2016, the tasting room was established and opened for a full season in 2017.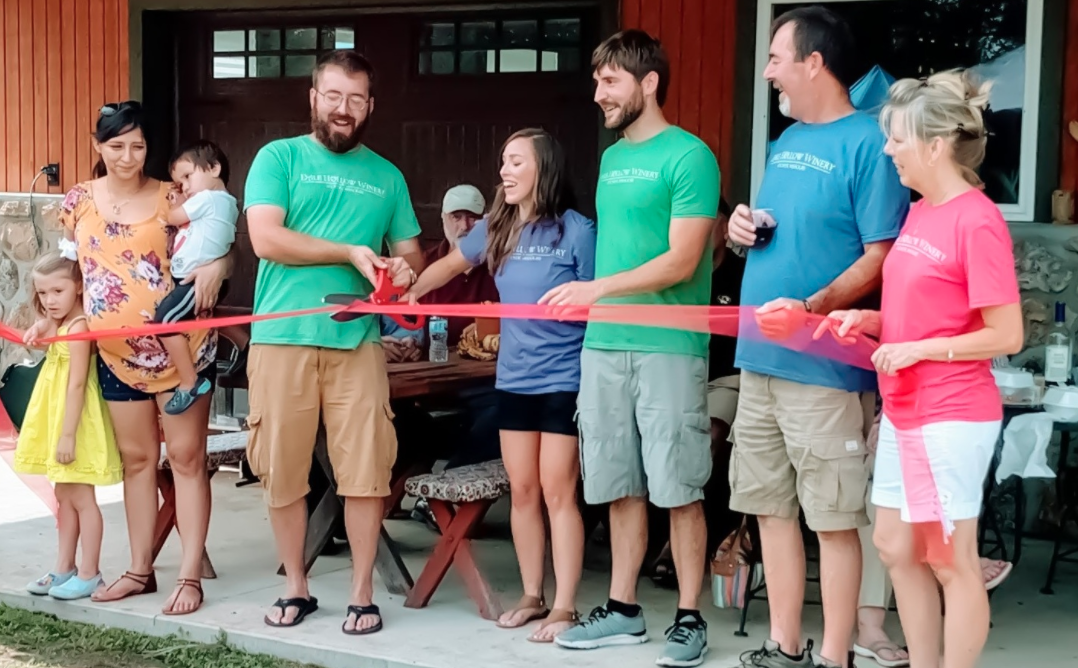 After many years of organic growth, the winery is truly coming into its own influence. Within the first few years of operation, Dale Hollow Winery garnered several awards, winning the 2019 Missouri Wine Competition's Best of Class Sweet Red Wine with their 2018 Concord. They experienced exponential growth on the vine as well, now growing 8 varieties of grapes on nearly 15 acres of vines.
Dale Hollow Winemaker Katy Dale emphasizes how thankful and blessed they have been throughout these starting years. Their 2021 harvest was abundant, doubling the harvest of Catawba, Concord and Cayuga. Norton, Vignoles and others had great harvest numbers as well, despite all the early season frost the state of Missouri experienced. In fact, they harvested so much more they had to purchase two new steel tanks as well as an additional crusher and press.
Dale Hollow Winery hand harvests grapes with care, intent and passion. Quality over quantity is an easy theme across the board for the Dale family's vineyard and winery. In the beginning, grapes were harvested by family. Today, more than 16 "harvest helpers" picked their 2021 Norton crop. The local support is extremely important to their success, Katy says. Community members, family friends and loyal customers harvested 500 Norton vines in less than two hours.
These volunteers spend time crushing and pressing after the harvest. They are rewarded with a wonderfully curated table of snacks from Katy, as well as a homemade sangria. There was even a masseuse on site to ease their muscles post-picking. Jesse plays a game with their team to guess the number of Brix in the Norton, coming out around 24.
"They believe in what we are creating and making for our community," Katy says. "We want to show the integrity behind our product too." Katy spent two months in Italy studying wine and her favorite part of her Italian wine journey was meeting the small-scale winemakers, learning trade secrets and seeing how much their community supported them there. It was something she wanted to bring back to Stover.
This support is evident in their harvests but also shown frequently in their tasting room. "It takes a village" Katy says. The truth is shown in every family member's role in the winery. Beyond Katy, Jesse, Asher and Ana's roles, Beth creates the artwork for each bottle and Kenny is a pro at vineyard management. There are several community members who have regular roles in maintaining the vineyard, and in helping with the winery and tasting room as well.
As of today, their demand exceeds the storage and space onsite. Katy and Jesse allude to a new production facility as their next step. No doubt, as their dreams grow, their support will too.
Stop in Stover the next time you drive through the Ozarks to see their scenic winery and try their wonderful wine selection. Also, learn about their new Wine Club rewards program!