October 11, 2014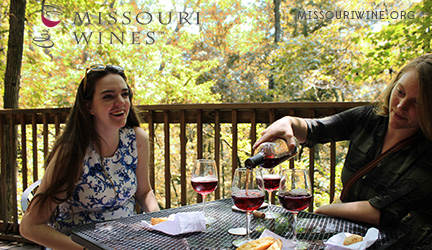 It's hard to deny there's a special bond between ladies. We laugh with each other, tell each other like it is, and always support each other through thick and thin. Embrace and celebrate these important friendships. Take a break and get away from it all for a little while with your girlfriends. We know the perfect place… Missouri Wine Country!
Whether you and your girlfriends are looking for relaxation or adventure, there is a Missouri winery or wine trail for you. With 128 wineries and 10 winetrails to choose from, you'll find the ideal destination for your ladies' retreat. Wine trails even have events created just for you, like Wine Diva Weekend on Route du Vin.
If you're looking to visit wineries and shop, you're in luck. There are lots of shops located near Missouri wineries. Check out the wineries along the Lake of the Ozarks Wine Trail and you'll be right by a variety of shopping options, including outlet stores. Hoping more for antique shopping? Check out one of the many small towns in Missouri with wineries and primo antique shops. 
How about a spa day? You can do that too! Several wineries have spas located near them (or even on site in Chaumette Vineyards'case). Contact your destination wineries for recommendations near them.
Consider exploring new areas and having an adventure in wine country together. You can even take the train. How cool is that? There are also several wineries where you can play and stay in their unique, lovely overnight accommodations. If you and your gal pals are fond of bed and breakfasts, there are tons very near most wineries. Just ask the wineries for their recommendations. They have the scoop on the best accommodations in their areas. Or consider a Glamping trip (you read that right, glamorous camping. It's a real thing!).
Whichever part of Missouri Wine Country you and your girlfriends decide to visit on your next getaway, it's sure to be unforgettable.
Missouri wine pairs well with girlfriend getaways!