December 19, 2016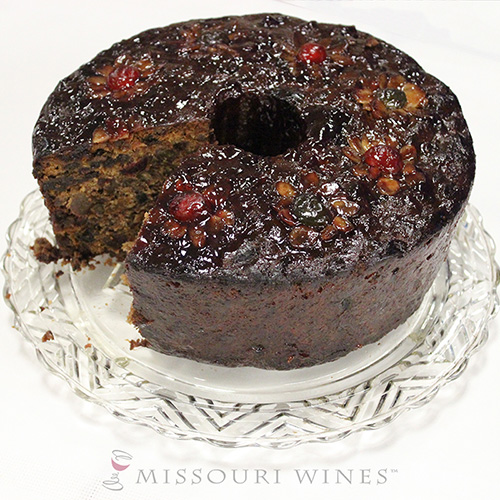 This is not the stereotypical joke-of-the-season fruitcake. This one is packed with delicious dried fruits, lots of nuts and festive seasonings, all enhanced with the flavor of Missouri wine. It may well become a holiday tradition for your family and friends. This cake is good right away, or can be aged for a month or more.
FRUITY FRUITCAKE RECIPE
Recipe by Pat Finkes, who one First Place in the 2016 Missouri State Fair: Cooking with MO Wine- Just Desserts Contest 
Ingredients:
2 cups golden raisins
1 cup raisins
1 cup chopped dried pineapple
1/2 cup chopped dried figs
1/2 cup chopped dried apricots
1/2 cup chopped dried prunes
1/2 cup chopped dates
1 cup sliced candied red cherries
1/4 cup sliced candied green cherries
1/2 cup chopped candied orange peel
1/2 cup chopped candied lemon peel
1/2 cup slivered almonds
1 cup chopped walnuts
1 cup chopped pecans
1 (750-ml) bottle winter spiced wine (such as Wenwood Frohlichwein) or your favorite Missouri red wine, divided
2 1/2 cups all-purpose flour, divided
2 teaspoons baking powder
1 1/4 teaspoons salt
2 teaspoons ground cinnamon
2 teaspoons ground allspice
1 1/4 cups butter-flavor shortening
1 1/4 cups honey
Zest of 1 lemon
1/2 teaspoon almond extract
1/2 teaspoon vanilla extract
6 eggs
For glaze:
1 cup semi-sweet red wine (your favorite Missouri semi-sweet red wine)
1 (10-ounce) jar Simply Fruit apricot
Candied cherries and slivered almonds, for garnish (optional)
Directions:
Combine golden raisins, raisins, pineapple, figs, apricots, prunes, dates, candied red and green cherries, orange and lemon peel, almonds, walnuts and pecans in a large bowl.  Pour 1 1/2 cups of the spiced wine over fruits and nuts; stir to mix. Cover and let stand in refrigerator or a cool place overnight, stirring occasionally. Before using, drain off any excess wine.
Line bottom of an angel food cake pan or tube pan with two layers of brown paper and one layer of parchment paper.  Preheat oven to 250 degrees.
Combine drained fruit and nut mixture with 1 cup of the flour; set aside.
Sift together the remaining 1 1/2 cups flour, baking powder, salt, cinnamon and allspice. Set aside.
Whip shortening in a large bowl.  Blend in honey, lemon zest, almond extract and vanilla extract. Add eggs, one at a time. Mix well. Add the flour mixture; mix well. Add the fruit and nut mixture; mix well by hand.
Transfer batter to prepared pan. Bake on center rack of preheated 250-degree oven for four hours, or until cake tests done. Remove from oven and let cool on rack. Remove cooled cake from pan.
To age the fruitcake: Wrap cheesecloth around cake; drizzle 1/2 to 3/4 cup of the remaining wine over the cheesecloth. Wrap in plastic wrap and put in airtight tin. Store in a cool, dark place. Drizzle additional wine over cheesecloth once a week for three to four weeks.
Before serving, prepare glaze.  Combine semi-sweet red wine and apricots in saucepan. Bring to a boil; reduce heat and simmer until mixture reduces to 1 cup. Unwrap fruitcake and place on serving platter. Brush glaze onto top and sides of fruitcake. If desired, decorate top of cake with candied cherries and slivered almonds.
Yield: About 24 servings.