July 07, 2014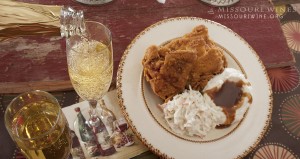 July 6th was National Fried Chicken Day, and that inspired us to write this post. We agree that this dish, the epitome of comfort food, deserves its own day, or perhaps even its own week or month. Fried chicken with its crispy, savory goodness is even better when you pair it with… sparkling wine.
Bubbly is good for a lot more than just wedding toasts, and it beautifully compliments fried chicken. If you really stop and think about it, it makes sense. Why, you ask? The bright acidity and lively citrus flavors found in dry sparkling wines help cut through the salty flavors and greasiness of fried chicken, while the tiny bubbles cleanse your palate and settle your stomach (which is sure to be full when there's delicious fried chicken on your plate).
So, the next time you have a craving for old-fashioned, down-home fried chicken, try this classic recipe and pair it with a glass of award-winning, dry Missouri sparkling wine. You're in for a real treat!
Missouri (sparkling) wine pairs well with fried chicken!