Fall Flavors Have Met Their Match
November 20, 2014
Printer Friendly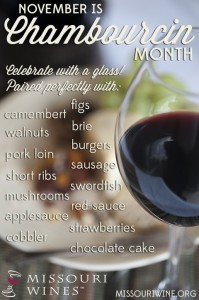 Chambourcin (sham-bor-san). If you haven't tried it yet, now is the time! Often called Missouri's gateway red, it is a deliciously smooth red wine varietal that has soft tannins and an unmistakable earthiness. These characteristics coupled with a fruity quality make it perfect to pair with many foods. The flavor palate of fall favorites in particular is a great match for this medium to full-bodied red wine.
November is Chambourcin Month, and we can't think of a better way to celebrate than by pairing your favorite dishes of the season with a glass of Chambourcin today.
Here are some foods that pair especially well with wine made from this French-American hybrid grape:
Cheeses: brie, camembert
Meats: pork loin, short ribs, sausage, hamburger
Seafood: swordfish
Vegetables and Fruit: mushroom, strawberries, figs,
Sauces: red-sauce, mushroom gravy, applesauce
Spices: nutmeg, clove, cinnamon
Sweets: berry cobbler, chocolate cake
… just to name a few! Mix and match to find your best pairing.
Missouri Chambourcin pairs well with a long list of delicious food!