Fall Events in Missouri Wine Country
September 10, 2020
Printer Friendly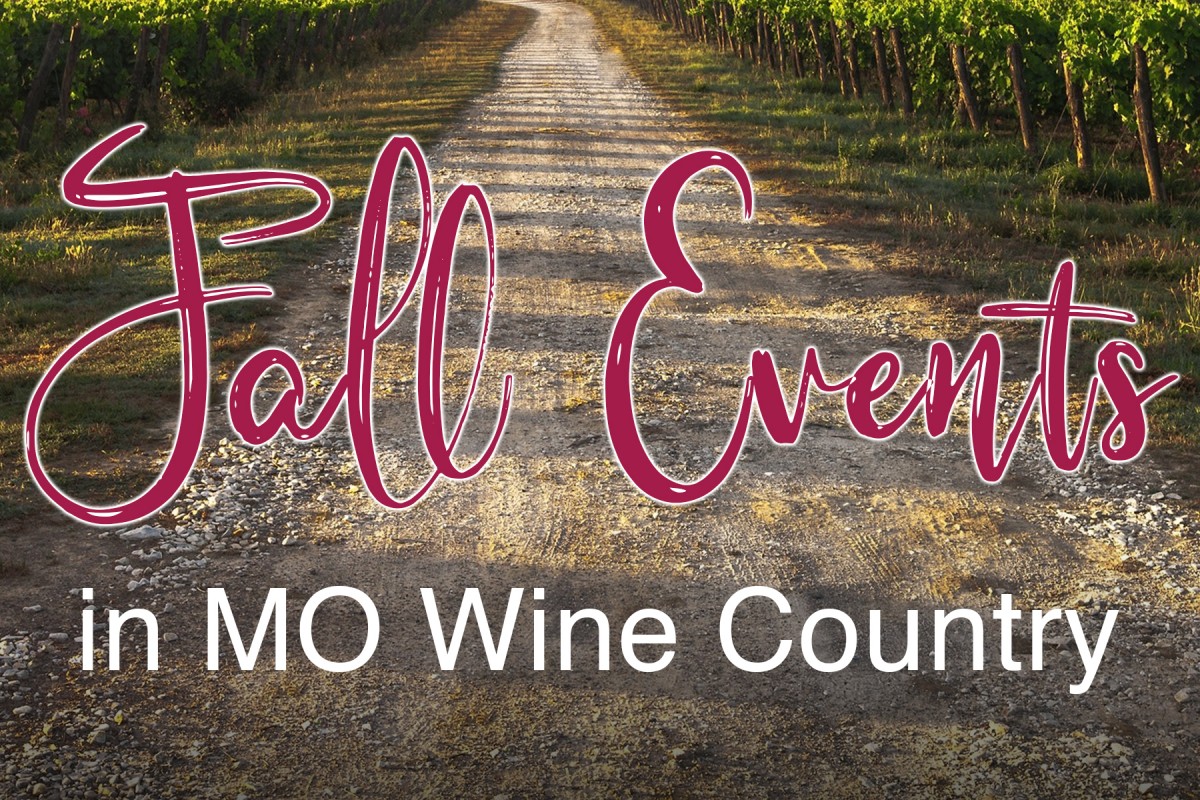 The leaves are starting to change, the weather is getting cooler and fall wine country events are on the calendar. Bring a friend, family member or come solo to experience all that these events have to offer. Below is a list of events you won't want to miss this season.
APW has live music every Saturday and Sunday in September and October. Listen along on Saturdays from 10:00 a.m. to 6:00 p.m. and Sundays from 11:30 a.m. to 3:30 p.m.
A Mulled Wine release will take place on September 18! This special wine is aptly named Mull It Over. Start the celebration with happy hour from 4-6:00 p.m. followed by their limited-edition wine release party until 8:00 p.m. The 1855 Cellar Bistro will be open until 8:00 p.m. Don't miss live music by Bryan Copeland.
September 25 from 6-10:00 p.m. is the beloved 10th Annual Doe Camp cancer fundraiser. Twice Baked band will perform live and there will be raffles, auction, vendors, food and more - all to beat cancer.
Grill Your Own Steak Night and Fish Fry is coming to APW on October 2 from 5:30-8:30 p.m. with live music by Steve Leslie. This night will kick off Adam Puchta's month-long celebration of their 165-year anniversary. They will start the celebration with a special, limited-edition wine release available while supplies last.
Show off your favorite costume, play games and sip on festive wine cocktails at Augusta Winery's 10th Annual Hallo-Wine celebration on Saturday, October 31, from 1-5:00 p.m. This event is family-friendly so please keep the costumes PG-rated.
Shop your favorite vendors and small businesses while you sip on some Hot Apple Pie or a glass of your favorite Augusta wine and enjoy the season's last live music performance during Doe's Day Out on Saturday, November 14, from 1-4:00 p.m.
Some call it Black Friday, Augusta Winery calls it Wine Friday! Enjoy specials on cases, merchandise, winter rentals, private tasting certificates and more to celebrate the un-official kickoff of the holiday season on Friday, November 27, from 10:00 a.m. to 5:00 p.m. 
Join Dale Hollow Winery in commemorating their 5-year anniversary! They will be celebrating this milestone in their favorite way possible - with wine, music and food.
Chuck Wagon will have food available beginning at noon. Jackson Fischer will take the stage at 2:00 p.m. There will be freebies of some sort to commemorate the day and say thank you to all of our loyal customers.
Harvest & Harmony event will take place on Saturday, October 10. Enjoy live music from 2-5:00 p.m. and a food truck from 12-5:00 p.m.
Edg-Clif Vineyard, Winery and Brewery
For their grape friends, Edg-Clif is hosting Grape Harvesting events every weekend from September 5 to 27. Swing by between 10:00 a.m. and 4:00 p.m. Saturdays and enjoy a hotdog lunch, live music from 1-4:00 p.m. and opportunities to learn more about their winemaking process and "experience the crush!"
Are you part of the Hand Picked Wine Club? There will be a VIP harvesting experience event on September 19 from 10:00 a.m. to 4:00 p.m. This includes a catered lunch, live music and complimentary bottle of wine for club members.
Also for the Hand Picked Wine Club, the Annual Chili Cook-Off is happening October 24 from 1-4:00 p.m. Complete with prizes, the day's events include hayrides, live music and s'mores at the Fire Pit. Club Members also get a free wine tasting and bottle of wine to take home.
*Annual fee to be a member of the Hand Picked Wine Club.
Hemman Winery's annual Grape Stomping Contest will take place the first weekend of October. Teams of two will battle to become the newest member of the Purple Foot Club. Sign up here.
Hummingbird Vineyard and Winery
Who doesn't love live music? Sit back, relax and listen to Becky Denton and Travis Feutz on Saturday, September 12, from 5-9:00 p.m. and Ron Ochsner on Saturday, October 3, from 5-8:00 p.m.
Hop on a hay wagon and ride around the vineyard and property while tasting Jowler Creek's wines. You'll learn about both the wines and you'll learn about the history of Jowler Creek along the way! Hayrides are happenin' every Friday, Saturday and Sunday from September 25 to November 1.
Tickets for the Winetasting Hayrides are $15/person (each rider MUST have a purchased ticket) and include the hayride, a tasting of 5 wines and a souvenir wine glass.
Bask in the beauty of 15 Missouri artists' work on Sunday, September 20, at LaChance Vineyard's Kimmswick location art show.
It's that time again, time for a Hallowine celebration! Enjoy live music by Scottie Kemp at the Kimmswick location on Saturday, October 10.
Head over to LaChance Vineyard's DeSoto location on Friday, October 16, for the 6th Annual Hallowine celebration featuring music by SweetWater Holler.
Friday, September 18, from 7-8:30 p.m. join Lost Creek's very own vintner, Larry Frichtel, together with Martin Weber, master distiller at Edelbrand Pure Distilling, for an evening of tasting, talking grapes and learning what goes on behind the scenes before it goes in the bottle. These local tastemakers are creating award-winning wines and spirits from Lost Creek Vineyard's bounty. Starting on the porch and ending in the vineyard, enjoy aperitifs with appetizers, wines paired with local nosh, and fruit brandy with espresso and chocolate. Attendance will be limited to 30 people with socially responsible precautions in place for a relaxed evening to linger and savor. The event will be held rain or shine, using their big, beautiful tent if necessary. An Evening with Our Tastemakers event is $25 person with advanced reservations required.
Enjoy the great outdoors with concerts every Saturday and Sunday featuring a wide variety of music to appeal to everyone's tastes.
Noboleis Vineyards offer live music every Saturday and Sunday from 12-4:00 p.m through October!
If you are a Wine Club member, you've got two more events to look forward to this year. Coming up on September 12 is the Sensory 301: Sensory Deprivation event! Wine Club manager, Bryan will be showing members how a loss of sight can affect how we taste and smell. Each sense plays a key role in how we interpret taste. The final event of the year for club members is always a Wine Club dinner. Noboleis Vineyards will prepare a special dinner with a local chef and pair the courses with their wines. This event is scheduled for November 7.
Peaceful Bend is hosting live music on Saturday afternoons from 2-5:00 p.m. in their outdoor wine garden.  There is no cover charge to attend.
They will also be featuring an outdoor concert by Ashtyn Barbaree on Friday, September 25, at 7:00 p.m.  Tickets will be available online for the concert by September 11.
Lastly, Peaceful Bend is hosting their monthly open mics on the second Wednesday of every month beginning at 6:00 p.m.  All are welcome to perform, or just come to listen to others showcase their talent.  No charge nor reservations needed to attend.
Their fall menu will roll out on September 19, so be sure to stop by and sample all the new items from their menu (or stick with one of their tried-and-true favorites!)
Volks in the Valley will be held on the beautiful grounds of Serenity Valley Winery September 11-13. Volkswagen lovers and those interested in VWs are welcome to stop by and visit with the winery owners. There is a lot of space at the winery and plenty of room to spread out.  This is a great opportunity to bring together the Serenity Valley Winery family for another great camping experience in the middle of the state. C Rock City will perform live on Saturday night and wine and beer tastings will again be available. They will have yard and board games available at the site.
Enjoy an unforgettable night of Goat Yoga on Friday, September 11, at 6:30 p.m. Reservations are required.
Camping is available on site for $20.00 for one night or $30.00 for both nights.
Stone Hill Winery hosts live music every Saturday from now until the end of October at no charge to you.