April 02, 2015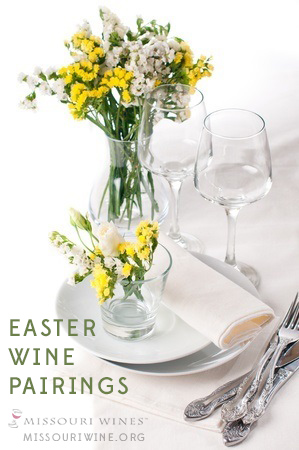 Easter Sunday (April 5th) is a time when many families gather over a delicious meal. A traditional Easter meal may look different depending on your loved-ones' traditions. Let us help you determine the perfect Missouri wine to pair with your ideal Easter celebration.
The most common main dishes tend to be ham, lamb and chicken. There are a variety of ways to prepare these entrees… glazes, preparation methods, etc. Generally speaking, ham pairs well with Chambourcin, lamb with Norton, and Chadonel with chicken. Sticking to these pairings is a pretty safe bet.
Diving a little deeper into the Easter recipe box lets us have a little more fun with the wine pairings. Cheesy scalloped potatoes are a crowd favorite and pair will with Chardonel and Chambourcin, depending on your preference between red and white wine.Asparagus often makes an appearance on the Easter table and is a good match with Seyval Blanc. Spring peas are also fairly popular and pair well with a crisp Vidal Blanc. The side dishes are often the best part of a meal.
Now for dessert! Carrot cake is always a hit and this classic spice-laden dessert pairs well with a semi-sweet Traminette. Pineapple upside down cake is perfectly matched with a glass of fruity Vignoles, but don't forget about all the goodies in those Easter baskets. There's a Missouri wine to go with those chocolate bunnies and even peeps. Click here for pairing recommendations.
If your Easter meal is more of a brunch, check out this blog post all about pairing Missouri wines with brunch dishes.
Missouri wine pairs well with your traditional Easter meal, whatever it may be!