August 25, 2016
Meet some of the dogs you'll run into while you're exploring wineries throughout the Show Me State.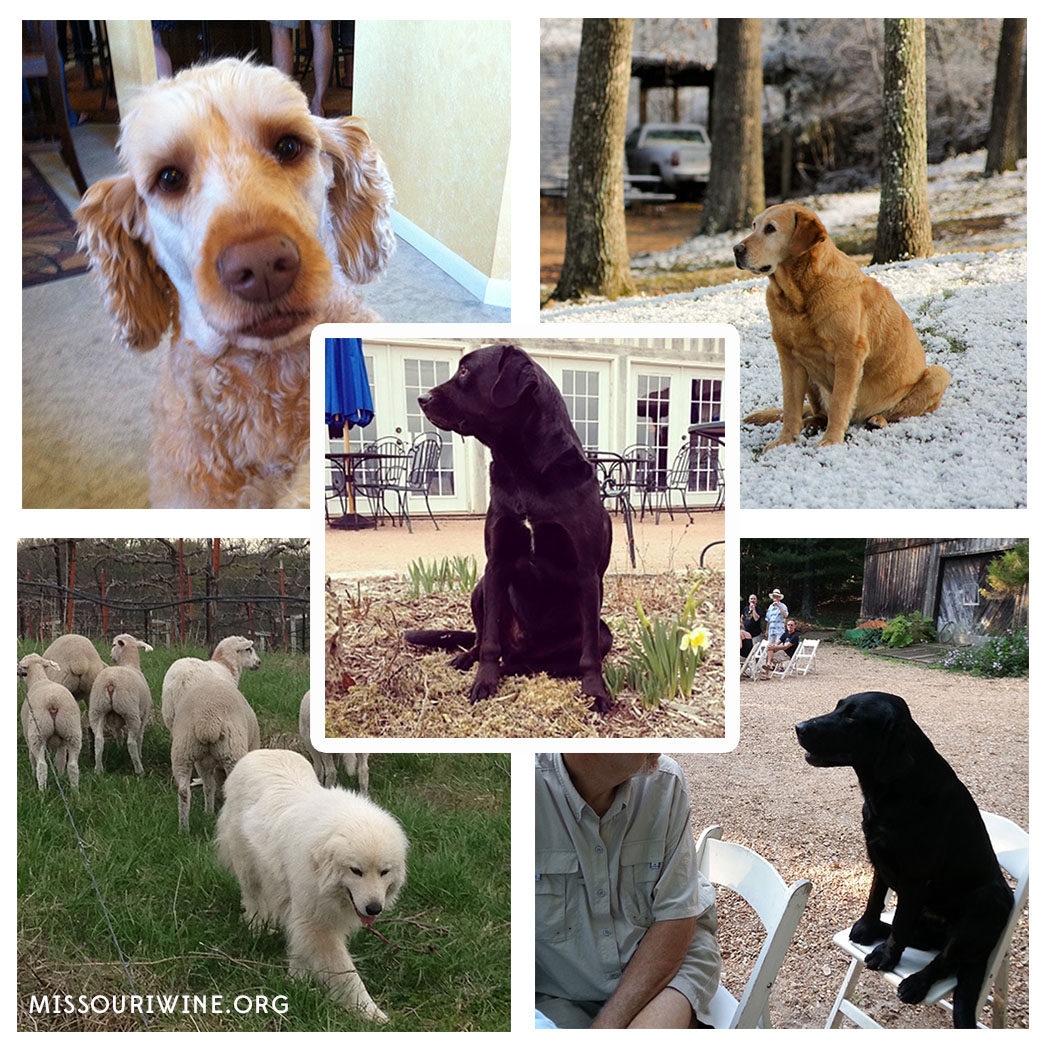 Winery: Chaumette Vineyards & Winery (pictured center)
Name: Norton 
Age: 7 years old 
Bio: He follows Owner Hank Johnson everywhere on property, either running beside Hank's kubota or riding along. Norton is a friend to all, he's a gentle soul and he loves to chase the birds out of the vineyard. He also (really) loves skunks. 
Winery: Fence Stile Vineyard & Winery (pictured top left)
Name: Becca 
Age: 9 years old 
Bio: Becca is a golden doodle (retriever / poodle) and has a great temperament.  She is great with kids and other dogs (both are welcome at the winery). She has been part of the vineyards & winery since they first planted in 2007. There is a wine named after her (Becca's Blend) and her likeness is on the label.  She eagerly waits by the door for people to come in and will show them to the tasting bar or a table.  She barks at familiar people (like we say nice to see you)!  When guests are leaving, she will walk them to the parking lot as well.
Winery: Jowler Creek Vineyard & Winery (pictured bottom left)
Name: Vidal
Age: 4 (her 5th birthday is St. Patty's Day)
Bio: Named after one of Missouri's premier white grapes, Vidal, protects the flock of "lawn-mowing" vineyard sheep at Jowler Creek Vineyard & Winery.
Winery: Peaceful Bend Vineyards (pictured top right)
Name: Maggie 
Age: 11 years old 
Bio: A yellow lab mix, Maggie came to Peaceful Bend as a rescue and is super sweet with customers, however, she has rules for visiting puppies such as 'no running on the porch' and 'leave me alone when I nap!'. 
Name: Pepe (pictured bottom right)
Age: 8 years old 
Bio: Pepe, an 8 year old black lab, loves to sit in a chair and discuss which is better: Cheddar or Swiss?  Of course, sausage always wins! Maggie is Pepe's mom.  
Many Missouri wineries are pet friendly. Click here for a list.