July 26, 2016
Drum roll please… We are thrilled to introduce the winner of the 2016 Missouri Governor's Cup, St. James Winery's 2015 Vignoles.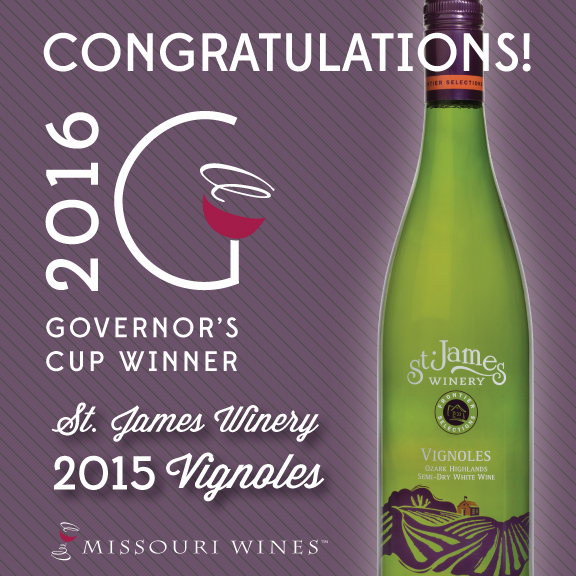 The Governor's Cup is the top honor or the Missouri Wine Competition. A total of 308 wines were entered into this year's competition from wineries across the state. The wines were blind tasted by a panel of industry experts from all over the country, and judged on a variety of factors. The judges named 23 gold medals, 99 silver and 114 bronze. Wines that received gold medals competed for Best of Class, and Best Varietal honors. From the Best of Class recipients, the Governor's Cup (i.e. best wine in the state) was selected. 
Congrats, St. James Winery, for bringing home the big one with your 2015 Vignoles! Vignoles is a French-American hybrid grape and Missouri's premier white varietal. This versatile white grape produces a wide range of wines from dry to dessert, and boasts luscious floral aromas and fruity flavors of pineapple and apricot.
The CV Riley Award for the best Norton wine was awarded to Noboleis Vineyards in Augusta for their 2014 Norton. 
Meet the rest of the 2016 Best of Class winners: 
Sparkling: Effervescent Mead, Pirtle Winery – Weston  
Dry White: 2014 Vidal Blanc, Stone Hill Winery – Hermann  
Semi-Dry White: 2015 Vignoles, St. James Winery – St. James 
Dry Red: 2014 Norton, Noboleis Vineyards – Augusta   
Rosé: Twilight, Edg-Clif Farms & Vineyard – Potosi 
Dessert/Fortified: Cream Sherry, Stone Hill Winery – Hermann  
Distilled Product: Grappa, Montelle Winery – Augusta 
Check out our trophy case for a full list of winners from the 2016 Missouri Wine Competition and to take a look back at the winners from the past. The winning wines will be showcased at the 2016 Missouri State Fair with many available for purchase at the Missouri Wine tent. 
Join us in congratulating St. James Winery on winning the Governor's Cup and all the wineries earning honors in this year's Missouri Wine Competition! 
There are so many award-winning Missouri wines; the hardest thing is choosing which to try first!