May 03, 2022
You will have a magnetic attraction to this quick, stylish and straightforward DI-Wine succulent planter. Recall your favorite bottles of Missouri wine and your fondest memories from sipping in the Show-Me State with family and friends as you create these tiny succulent planters from wine corks. We opted for faux succulents to enjoy all the up-cycled chicness without any upkeep, but you can use real plants if you prefer. 
This is genuinely a five-minute craft, which creators of all ages can enjoy — it takes longer to gather your supplies than it does to craft your first magnet. These petite planters make fantastic presents and would be the perfect Mother's Day gift for the extraordinary ladies in your life.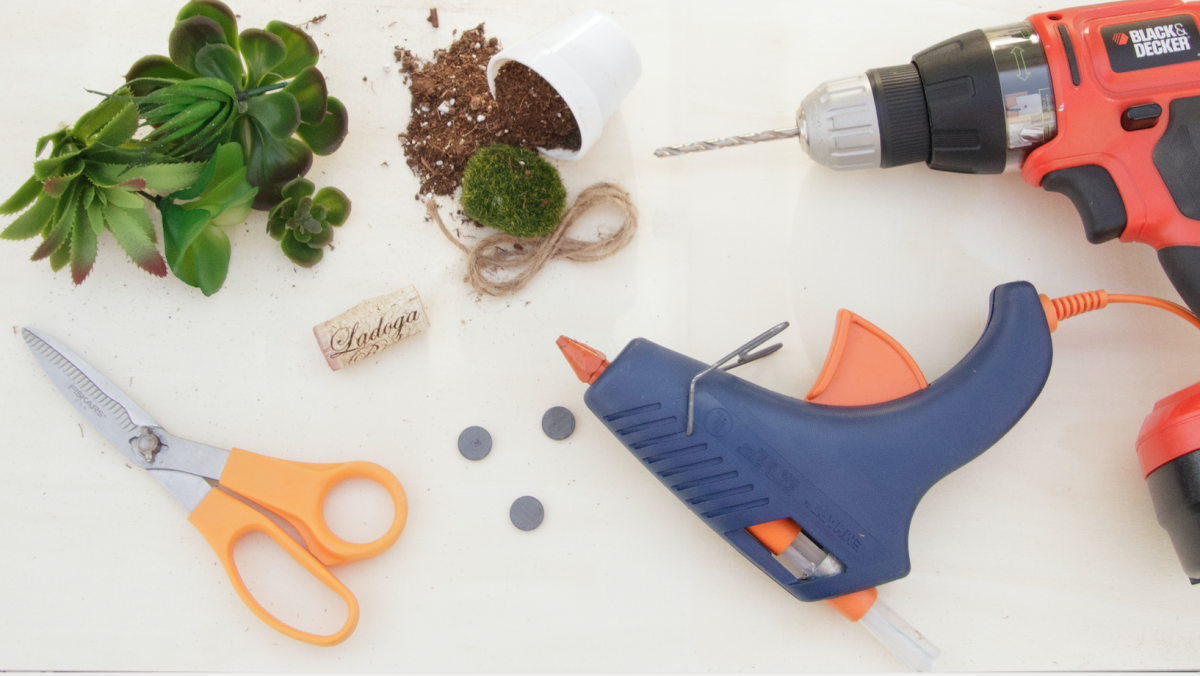 What You Will Need:
Corks from your favorite Missouri wine
Faux succulents (or live succulent cuttings or air plants)
Trimmings, such as soil, moss or twine
Magnets
Hot glue gun
Scissors
Drill
Step 1: Select a small succulent or trim a larger plant down to an appropriate size to sit on the cork. We found 1-inch plants seem to be a great size to start but using different size cuttings will bring interest and variety to your finished products. 
Step 2: Carefully drill a ¼-inch hole into the top or side of the cork where you'd like to place the plants. Don't drill all the way through. For faux succulents, just a small hole to fasten the stem will suffice; for live plants, make the hole bigger to fill it with enough soil to sustain your succulents. (If you don't have any power tools handy, you may carefully cut an opening in the cork using scissors, box cutter or a razor blade. Use caution as the scissors may slip.)
Step 3: Pick the trimmings you'd like to use around the hole you made in the cork. We found that twine, moss and soil all work great. By adding these trimmings to the top of your cork, you can cover any excess glue and make your faux succulents look more natural and life-like. For a quick, easy way to camouflage the top of the cork, hot glue around the pre-drilled hole and sprinkle soil or moss onto the glue or carefully twirl twine around the area. For living plants, fill the hole with soil. 
Step 4: Place your plant in your pre-drilled hole and use a dollop of hot glue to secure it. While live cuttings should be planted into the soil rather than glued into the hole, a tiny bit of glue may be used on the leaves to hold these hardy plants in place until they take root. 
Step 5: Glue a magnet to the back of your cork; be sure to put your craft's best side forward. 
Step 6: Place your new succulent magnet on the fridge before uncorking another bottle of Missouri wine. Experiment with different placement, colors and textures of plants. We found that placing three succulents along the long side of a cork creates a unique look. 
Share your DI-wine with us on social media by tagging #missouriwine and @missouriwine.