May 11, 2023
Use your empty Missouri wine bottles to give Missouri's smallest birds a little place to stop and sip with this beautiful (and simple) DIY Wine Bottle Hummingbird Feeder.
What You Will Need
Clean, empty wine bottle with the label removed
Copper wire
Pliers
Hummingbird feeder tube and stopper (Amazon has a few options)
Hummingbird nectar (4 cups of water to 1 cup of granulated sugar — heated to combine and cooled to room temperature)
Step-by-Step
Step 1 – Cut two, 5-foot sections of copper wire. Fold in half. Take each wire and wrap the middle of the wire around the neck of the wine bottle, twisting the wires together near the neck of the bottle with the two ends sticking out from the bottle. Fasten each wire so the ends are on opposite sides of the bottle.
Step 2 – Take the end of each wire on the same side of the bottle, pull them down and together to form a small diamond shape, and twist them together. Do the same on the opposite side of the bottle. Continue taking one wire from each twist and combining them to make a new twist, down the side of the bottle to create a diamond, lattice-like pattern around the bottle. Adjust and straighten the wire as you continue to work, so the pattern is even and nice looking.
Step 3 – Once you have made it to the bottom of the bottle and fastened your final twist on that side, twist the remaining ends of the wires together to create one, thicker wire sticking out from the bottom of the bottle. Repeat this step on the opposite side, before taking each 2-ply wire and twisting them together in the middle to create a hanger.
Step 4 – Fill the bottle with hummingbird nectar. Carefully fill the feeder to near the brim of the bottle. Insert the hummingbird feeder tube and stopper, and make sure there are no air bubbles in the bottle, to avoid leaks.
Step 5 – Slowly flip the bottle over so the feeder/stopper is at the bottom, and it can be hung by the twisted copper wire hanger.
Step 6 – Enjoy watching some of the fastest and smallest birds take a sip from your beautiful feeder.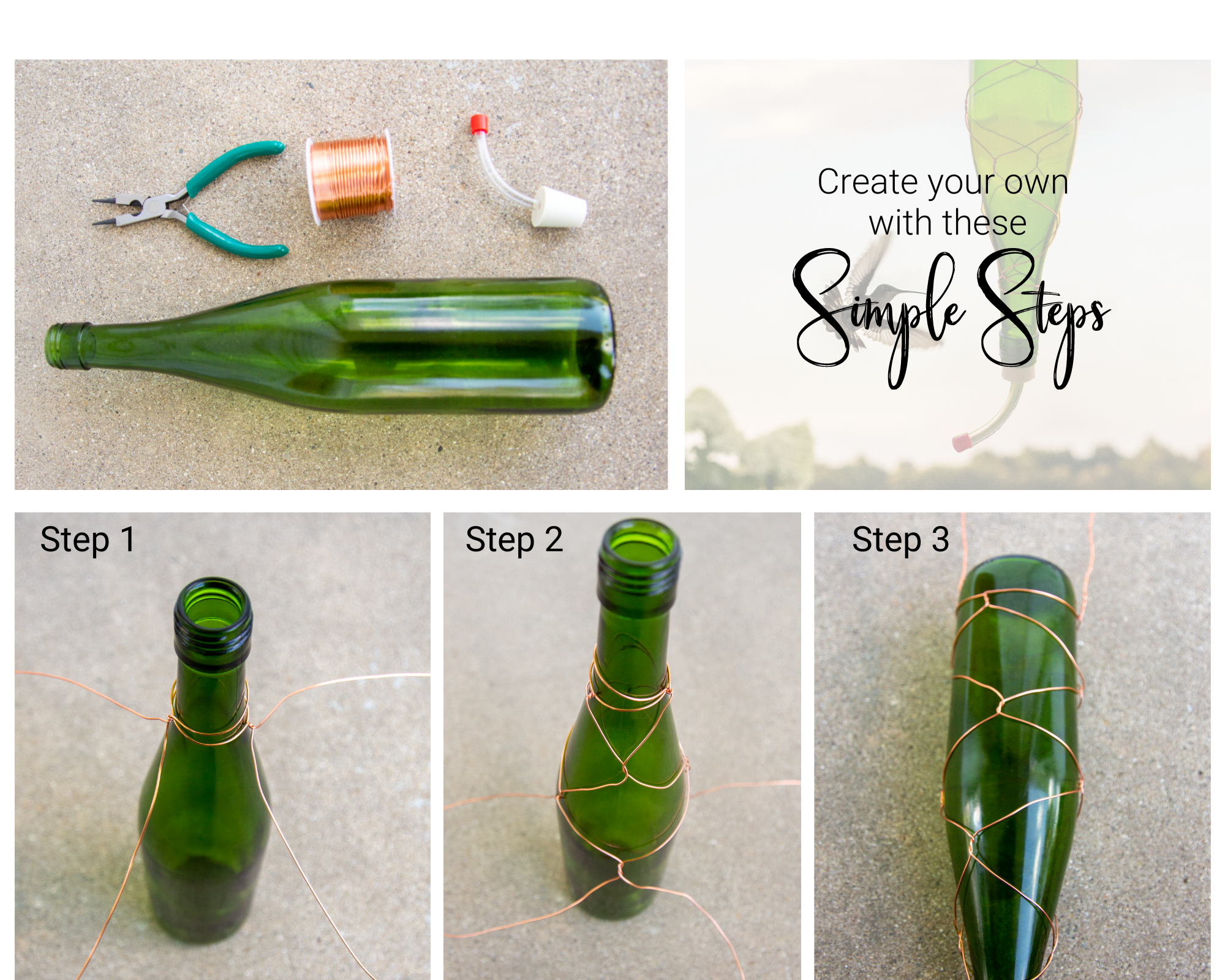 Share your DI-wine with us on social media by tagging #missouriwine and @missouriwine.