August 15, 2017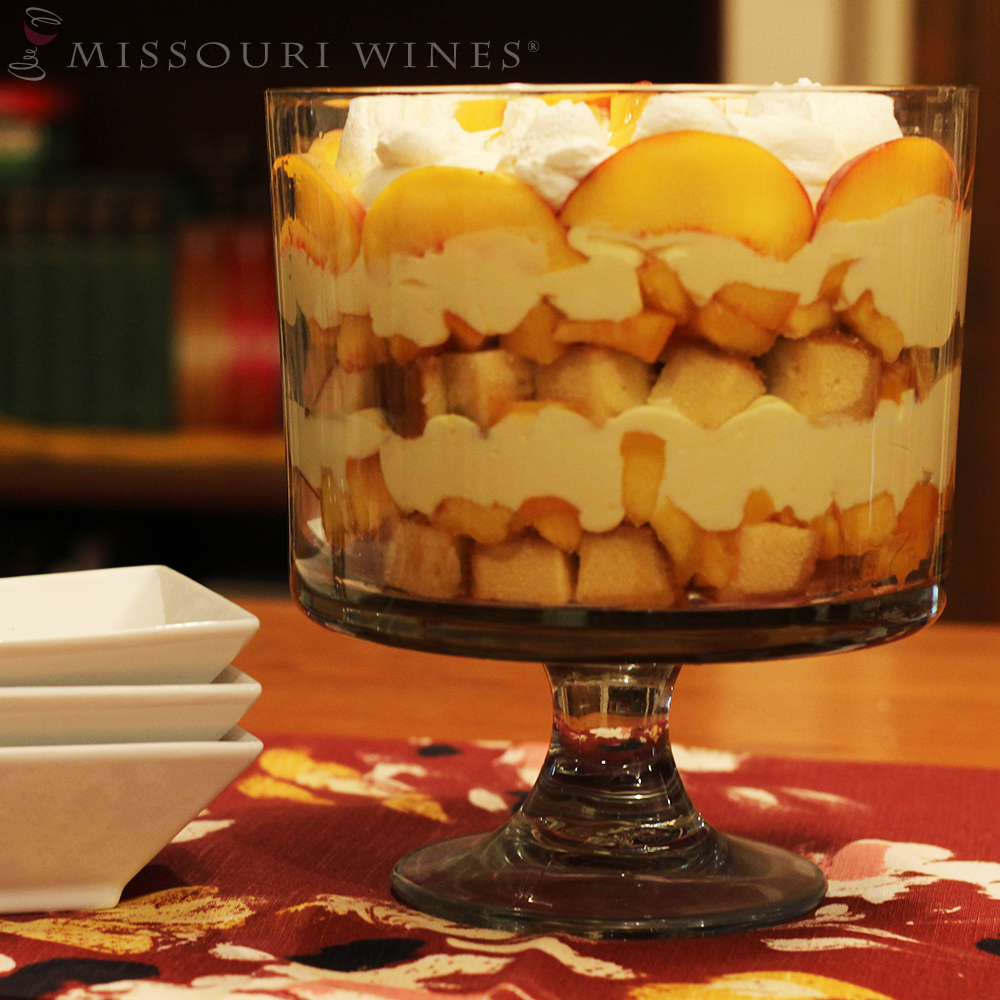 Vignoles is a popular white wine in Missouri. It's super fruity and refreshing and pairs well with a long list of foods. Fresh fruit is a particularly good match for Vignoles. Fresh peaches are featured in this recipe for Peachy Vignoles Trifle, and it's sure to be a huge hit at your next gathering. Vignoles wines are made in a wide range of sweetness levels but the most common is semi-sweet, which is what we used in this simple and quick treat.
Peachy Vignoles Trifle Recipe
Time: 30 minutes | Serves: 12-16 people
Ingredients:
1 ½ cups- Missouri Vignoles (semi-sweet, fruity white wine)
¼ cup- Granulated sugar
5 large- Peaches (Optional: 1 extra for garnish)
1 package- Instant French vanilla pudding
2 cups- Milk (amount may vary slightly depending on the pudding brand)
2 cups- Heavy whipping cream
4 tbsp- Powdered/confectioner sugar
2 tsp- Pure vanilla extract
1- Pound cake (Frozen is fine, but thaw it before preparing the trifle. Or make your own.)
Directions:
In a medium saucepan, bring wine and sugar to a low boil and simmer until the liquid is reduced by half, about 10-12 minutes. Let cool when finished. While the wine is simmering, prepare your other layer components.
If you prefer your peaches skinless, wash them and cut a shallow X in the bottom. Submerge them in boiling water for one minute. Carefully remove them from the boiling water and put them directly into a bowl of ice water. Once they've cooled, the skins will slide right off.   If you don't mind the skin on your peaches, skip this step and go right to removing the pit and chopping the fruit into bite size pieces.
In a large bowl, prepare the French vanilla pudding according to package instructions.
Cut pound cake into one inch cubes.
In a medium bowl, beat cream, vanilla extract, and powdered sugar until stiff peaks are formed. (Not sure what constitutes a stiff peak, check out this guide.)
Fold half of the whip cream into the pudding just until mixed.
When the Vignoles syrup is cool, stir it into the peaches.
Begin layering your trifle! Make a nice full layer of pound cake, top with peaches and half the juice/wine/syrup liquid. (This yumminess will soak into the pound cake and be amazing.) Add a layer of creamy pudding, then repeat: cake, fruit/juice, pudding. (Optional: At this point in the process, you can add thin slices of peach around the top of the dish for a lovely garnish.)
Spoon or pipe the remaining whip on top to finish it off.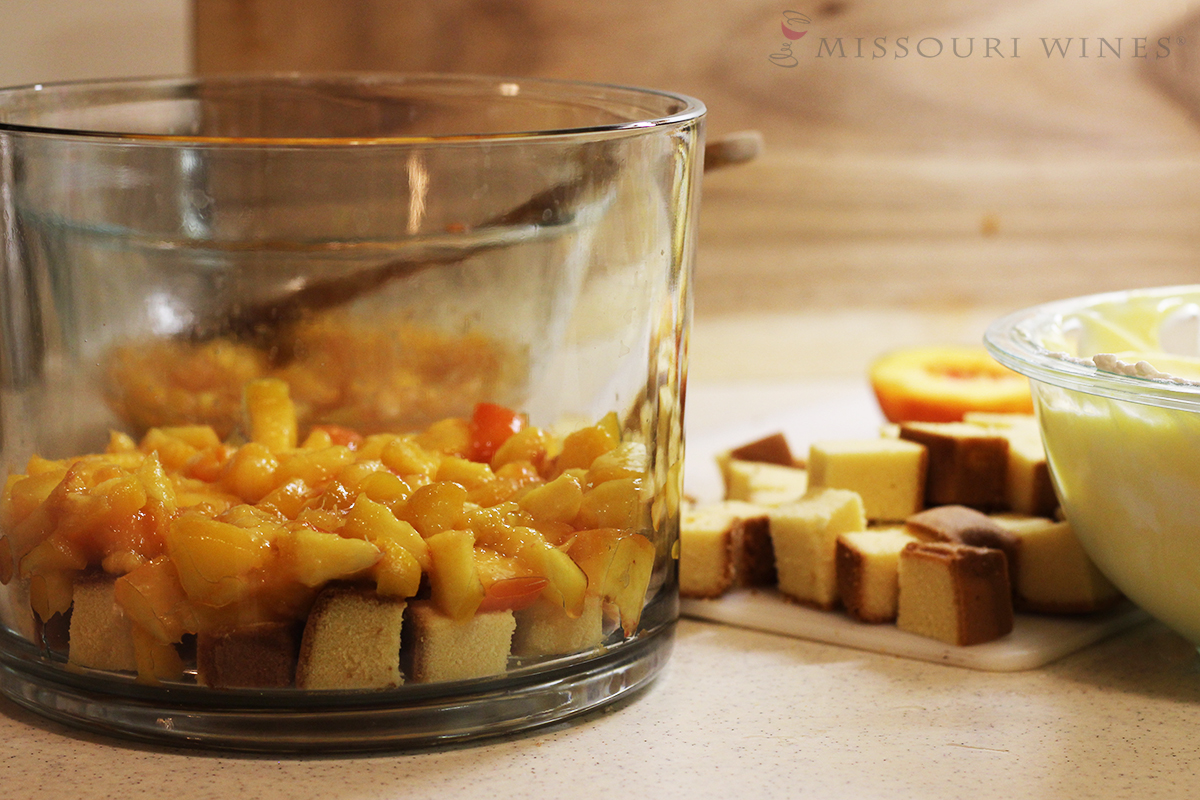 This dessert is delicious immediately or can be made up to a day ahead of time and kept covered in the refrigerator.
Enjoy a heaping scoop with a glass of Missouri Vignoles. Cheers!