July 21, 2014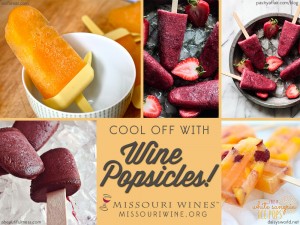 As the temperature rises, we all tend to look for anything that will cool us off. One great and delicious option is an ice-cold popsicle, but why not take it one step further and make it a delicious wine-infused popsicle? Summer fun, indeed! Try out these recipes with your favorite Missouri wines for a tasty treat sure to be refreshing and help you relax on a hot summer day.
Roasted Strawberry Red Wine Popsicles are a deliciously refreshing treat combining the fruity flavor of the roasted strawberries with sweet red wine and balsamic vinegar. [via Pastry Affair]
* Try with a Missouri Corcord or one of these award-winning wines.
Red Wine Fudgesicles will not only sate your desire for something cold, but your sweet tooth will also be pleased. Dark chocolate and dry red wine make such a great pair, even frozen. [via A Beautiful Mess]
* Try with a Missouri Chambourcin or one of these award-winning wines.
White Sangria Ice Pops take an already popular summer beverage and freeze it. Yes, please. Count us in. You can customize this one easily to include your favorite fruits. [via Daisy's World]
* Try with a Missouri Vignoles or one of these award-winning wines.
Nectarine (or Peach) Bellini Popsicles take this classic brunch favorite to a whole new level. [via e is for eat]
French 75 Popsicles are a classy way to cool down on a hot summer day, and with fresh lemon juice it's sure to be refreshing. [via Reclaiming Provincial]
* Try with a Missouri sparkling wine.
Try one of these delicious frozen concoctions or make up your own. Remember when you're measuring out the ingredients that a good rule of thumb is 3 to 1 on the mixer (juice, fruit, etc.) to wine ratio if you want your popsicles to freeze.
Missouri wine pairs well with popsicles!