June 08, 2023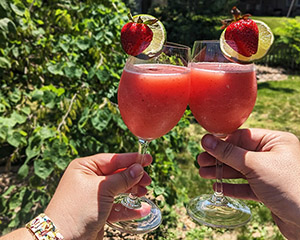 Summer has arrived and as the temperatures rise, we're all thinking about ways to cool down. This super easy and totally refreshing Frosé (frozen rosé) is exactly what you need! Frozen fruit and Missouri rosé wine come together quickly and simply to create this delicious, frosty treat. 
Frosé Recipe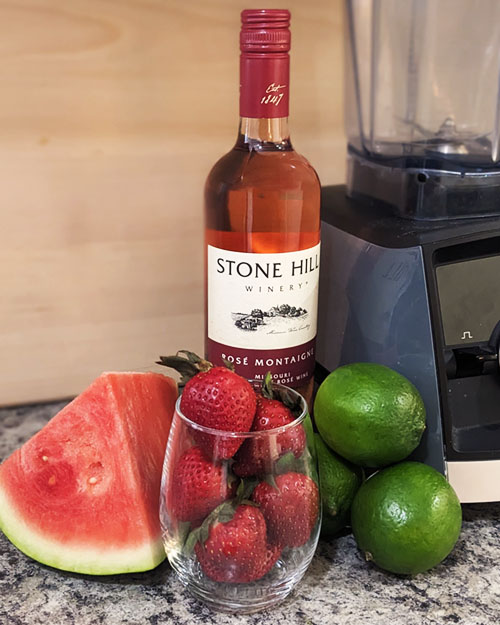 Time: 5 minutes, Servings: 5-6
Ingredients 
1 bottle Missouri rosé wine (750ml) 
2 cups Strawberries, frozen 
2 cups Watermelon, frozen (seedless and chopped into small cubes, approx. 1 in.)
¼ cup Fresh lime juice 
2-4 tbsp Simple syrup or agave, to taste 
Instructions 
Add the rosé wine, frozen fruit and lime juice to a blender. 

Blend on med-high until smooth and slushy. If it's thinner than you would like, add more frozen fruit half a cup at a time. 

Taste the mixture and add simple syrup one tablespoon at a time until you reach the desired sweetness. The amount you'll need is based on the sweetness level of the wine you use. If you choose a sweet rosé, you'll need less sweetener. 

Pour and enjoy! 

Optional:

Garnish with fresh strawberries and lime wheels. 
*If you want to make this treat ahead or have leftovers you want to save for another time, pour the mixture into ice cube trays and freeze them. Just pop the cubes into the blender when you're ready to enjoy the frosé. 
Missouri Catawba, usually made in the rosé style, is a great varietal to try in this simple recipe. However, it works well with just about any rosé wine as it is so easily customized to your sweetness preferences. Cheers to staying cool with a glass of Frosé!