September 24, 2019
There are so many ways to cook with Missouri wine. From appetizers to desserts, wine can be incorporated into every course.
Some good rules to follow when cooking with wine are:
1. Use wine you like.
When someone doesn't particularly like a wine they've opened, they might think "That's okay, I'll just cook with it." Unfortunately, that may not be a great solution. When you cook or bake with wine, the flavors are often intensified. So when selecting a wine for cooking or baking, pick one you also enjoy sipping.
2. Play the flavor matching game.
Pick out the primary flavors of your dish or recipe and pair those to a wine that will complement them. For example, Norton has notes of cherries and baking spices, making it ideal to pair with a cherry cake or pie. Vignoles is known for its tropical fruit flavors and is delicious in fruity desserts. Use this guide to help you find the perfect match.  
3. Drizzle, don't drown.
There can be a bit of a learning curve when it comes to adding wine to your recipes. Too little and you won't be able to taste it; too much and you'll throw the dish off balance, masking the other flavors. The best way to know if you've added enough is to taste it. Sometimes in the case of baked goods, this isn't possible ahead of time. Start with a more reserved amount. If you're not getting enough flavor coming through on the final dish, amp it up by adding wine to the sauce or frosting.
4. Reimagine old favorites.
Maybe you have an award-winning brownie recipe or world-famous cake, consider substituting one of the liquid ingredients for a delicious Missouri wine. You might find that your old favorite reaches a whole new level of awesome!
 
Here are some of our favorite wine recipes.
Appetizer:
Perfectly Shareable Chardonel Fondue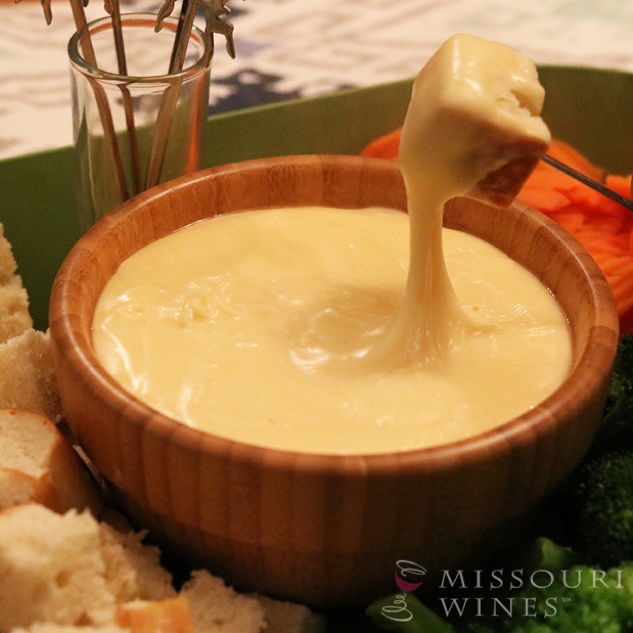 There is something undeniably fun and communal about Fondue that makes it the perfect dish for sharing with a group. Traditional Fondue recipes include cheese, wine, herbs and garlic. Try this version featuring Missouri's classic white wine, Chardonel.
Time: 15-20 minutes    |    Yield: 6-8 servings
Ingredients:
Fresh garlic clove
1/2 lb  Gouda cheese
1/2 lb  Swiss cheese 
1 cup  Missouri Chardonel (dry, white wine)
1/4 cup  Cornstarch
Salt
White Pepper
Directions:
Grate the cheese and coat with cornstarch. This recipe uses a double boiler method. You'll need a heatproof bowl and a pan it will fit in without touching the bottom of the pan. Cut the garlic clove and rub it on the inside of the bowl to coat the bottom and sides. Place the bowl over the pan of water, bringing the water to a simmer. Add wine to the bowl and heat until warm but not too hot. (You're looking for small bubbles, not a rolling boil.) Add the cheese a handful at a time stirring until melted. Once all of the cheese is melted, add salt and pepper to taste. Serve immediately with dippable delights such as bread, veggies, meat, or even apple slices.
The Fondue will thicken quickly if you don't have a Fondue pot or small slow cooker, so eat up! Pair this delicious shareable dish with a glass of Chardonel. Cheers! 
Main Dish
Seyval Chicken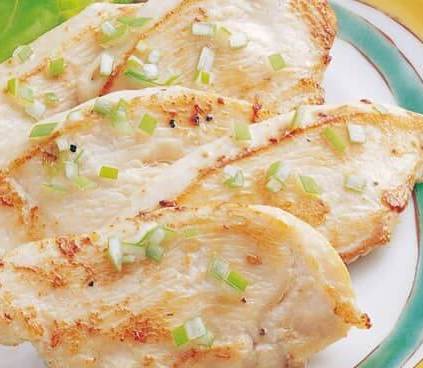 Ingredients:
4 boneless skinless chicken breasts
2 cloves garlic crushed
1/4 teaspoon red pepper flakes
Salt
Pepper
1/2 cup Seyval (semi-dry white wine)
3 green onions sliced
Directions:

Season chicken with salt and pepper. Place in a sprayed nonstick frying pan. Brown on both sides slightly. Add garlic and pepper flakes. Pour wine into pan, cover and simmer about 15 minutes or until chicken is done. Wine will reduce. Top with onions and plate.

Sauce
Missouri Red Wine Steak Sauce Recipe
What grows together goes together and Missouri beef and Norton wine are a prime example. Big, bold and complex, Missouri Norton wine is an amazing complement to a delicious steak. This sauce is a great way to take your steak dinner to the next level. 
Time: 25-30 minutes    |    Yield: 4 servings
Ingredients:
1 tbsp Canola oil
4 (6-8 oz) Steaks, sirloin  
3 tbsp Shallots, minced
2 tsp Fresh rosemary, chopped
1/2 cup Missouri Norton (full-bodied red wine)
1/2 cup Beef stock, unsalted
1 1/2 tsp Butter, unsalted
1/2 tsp Dijon mustard
1 tbsp Flat-leaf parsley, chopped
Salt and pepper, to taste
Directions:
Heat a large skillet over high heat. Add oil; swirl to coat. Sprinkle steaks evenly with salt and pepper. Add steaks to pan; cook 4 minutes on each side or until desired degree of doneness. Remove steaks from pan. Let stand 5 minutes. Reduce heat to medium-high. Add shallots and rosemary to pan; sauté 1 minute or until lightly browned. Add wine and cook for 2-3 minutes. Add beef stock; cook 4-6 minutes or until liquid is reduced by half and mixture is slightly thickened. Remove pan from heat. Add butter and mustard. Season with salt and pepper to taste; stir with a whisk. Top steaks with sauce and sprinkle with chopped parsley.
 
Dessert
White Wine Lemon Bundt Cake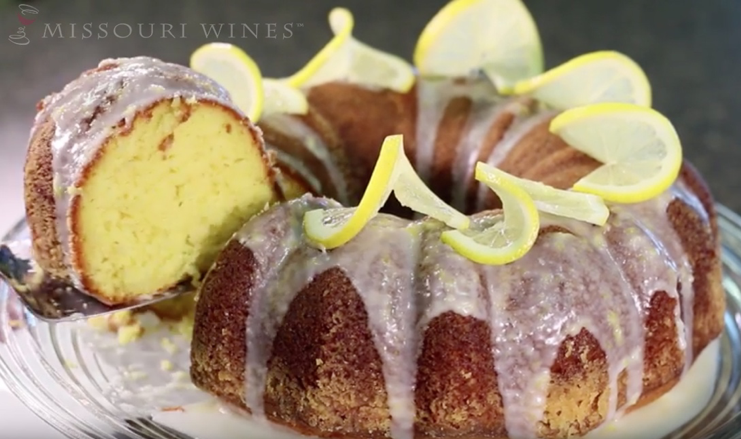 Prep Time- 25 minutes    |    Cook Time- 45-55 minutes
Ingredients: 
Pan prep 
2 tbsp Melted butter
2 tbsp Flour 
Cake 
1 box Lemon cake mix 
1/4 cup Brown sugar
1/4 cup White sugar 
1 box Instant lemon pudding mix (3.4oz)
Zest of 1 lemon
4 Eggs 
3/4 cup Water
3/4 cup Vegetable oil 
1/2 cup Missouri Vidal Blanc Wine 
Glaze 
1 cup Confectioners' Sugar
2 tbsp Missouri Vidal Blanc Wine  
Zest of 1 lemon 
Directions: 
Preheat oven to 350 degrees (F). Melt two tablespoons of butter. Add two tablespoons of flour and whisk together until smooth. Using a pastry brush, coat the inside of a bundt pan generously with the butter/flour mixture. Set aside. In a large bowl, combine all the cake ingredients (cake mix, sugars, pudding mix, lemon zest, eggs, water, oil, and wine). Beat with an electric mixer until fully incorporated, approximately 2 minutes. Pour batter into prepared Bundt pan. Bake cake 45-55 minutes, until cake tester comes out clean. While the cake is baking, prepare the glaze. 
Glaze instructions:

Stir wine into confectioners' sugar one tablespoon at a time until smooth. Stir in the lemon zest and let sit at room temperature for at least 10 minutes. Remove cake from oven and let cool in the pan for 10 minutes, then invert on a wire rack to cool completely. Once cool, drizzle with glaze.