December 21, 2022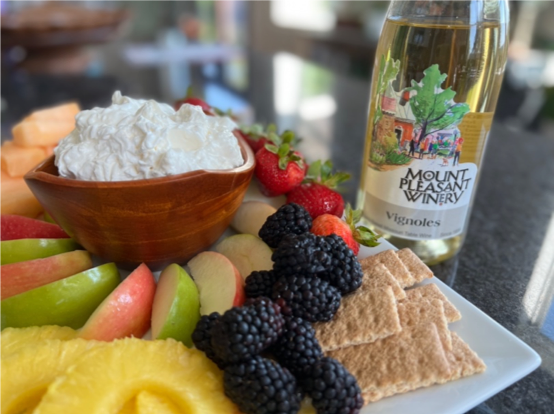 Vignoles is a great way to add a tropical twist to your meals and desserts. When Vignoles meets coconut, the results are delicious! Try this quick 4 ingredient recipe to serve as a sweet summer treat with fresh fruits.
Yields about 2 cups
Serves 10-12
Ingredients
1 (8oz) package cream cheese – softened
½ c semi-sweet to sweet Vignoles wine
½ (8oz) container of Cool Whip
½ c coconut flakes (or shredded coconut)
Instructions
1.In a large bowl, use a mixer to whip together cream cheese and wine until smooth.
2.Add the cool whip and coconut and lightly whip until blended.
3.Serve the dip with fresh fruits and graham crackers. Keep refrigerated.
This light and refreshing fruit dip will keep you coming back to the bowl for more. Give it a try and share with us on social media @missouriwine and #MissouriWine.