September 07, 2016
Chicken is a delicious, nutritious, and affordable staple found in most kitchens. No wonder there's a whole month devoted to this classic protein. In honor of National Chicken Month, let's talk chicken and Missouri wine!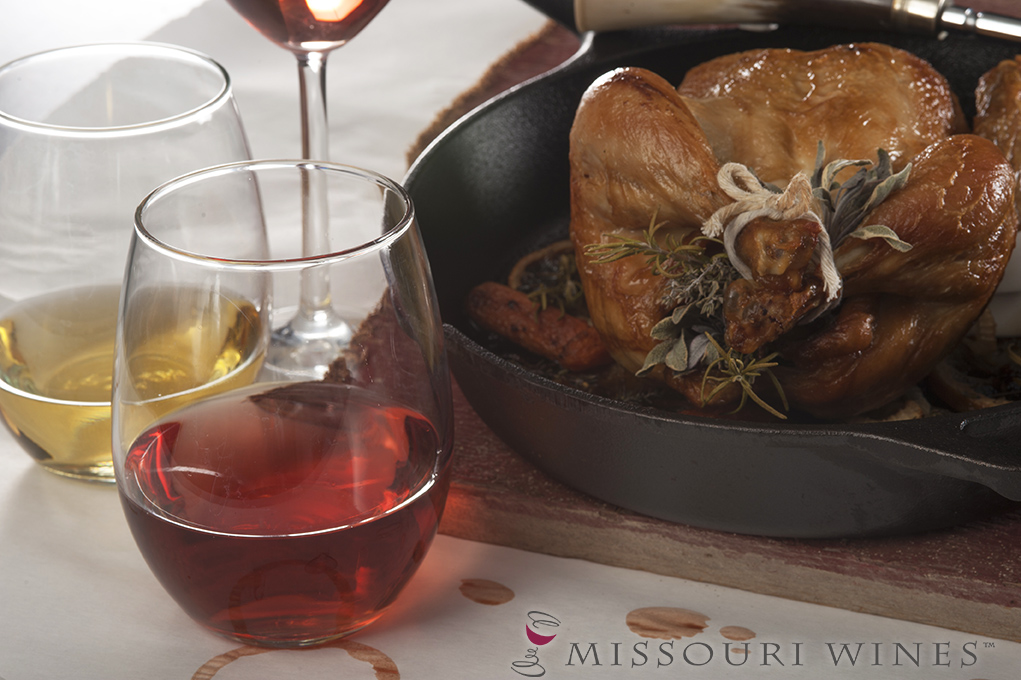 Cooking Chicken with Missouri Wine
Cooking with wine can add flavor and depth to your dishes. (Not to mention it gives you an excuse to open a bottle of wine and enjoy a glass while you're cooking.) Wine is used in three primary ways when cooking… as a marinade ingredient, a cooking liquid (think simmer or braise), and flavoring in finished dishes (sauces, primarily). Click here for more info about cooking with wine.
Try one (or all) of these delicious recipes to celebrate Missouri Wine Month and Chicken Month!
Grilled Chicken Beurre Blanc paired with Chardonel from Feast Magazine
Skillet Lemon Chicken paired with Vidal Blanc from The Cookie Rookie
Classic Chicken in Red Wine paired with Chambourcin from the Food Network
Pairing Chicken with Missouri Wine
White meat pairs with white wine is a general rule, and it does work quite often. However, don't lock yourself in that box. If you do, you might miss out on some really delicious flavor combinations…
Fried Chicken + Sparkling Wine (Find more info on this rebellious pairing here.)
Chicken Parmesan + Chambourcin
Barbecue Chicken + Catawba
Find the perfect wine for your favorite chicken dishes with this guide.