Celebrate Valentine's Day in Missouri Wine Country
February 05, 2019
Printer Friendly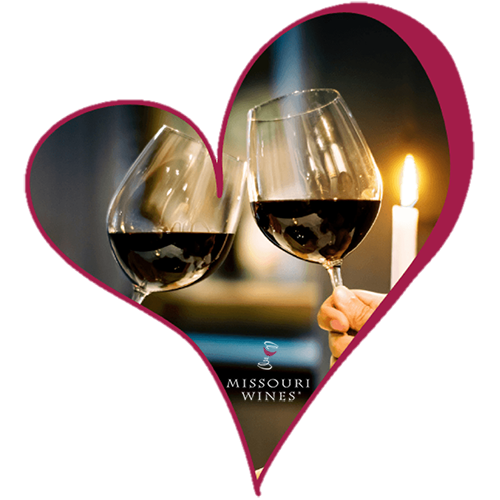 Treat your sweetheart to a unique experience in Missouri wine country this Valentine's Day. Several wineries in the state are planning events featuring delicious wines and fantastic food. There's even an anti-Valentine's Day event perfect for those who are flying solo this year. The following are just a few of the events being held across the Show-Me State. 
Augusta Winery 
5601 High Street
Augusta, MO 63332
Kakao Chocolate and Wine Pairings
While supplies last during tasting room hours 
Enjoy 5 award-winning Augusta Winery wines perfectly paired with 5 handcrafted chocolates from Kakao Chocolate during the month of February. The cost is $10 per person. Make your reservations by emailing Assistantmanager@augustawinery.com. Walk-ins are welcome but only while supplies last. To ensure availability, reservations can be made 48 hours in advance by emailing orders@augustawinery.com.
Baltimore Bend Vineyard
27150 Hwy 24
Waverly, MO 64096
Painting @ The Bend
February 15
6–8:30 pm
Get in touch with your creative side this Valentine's Day. Take your sweetie to Painting @ The Bend, a special couple's painting night on Friday, February 15. Artists from Paint the Town Columbia will take you step-by-step through the painting course. Check-in begins at 6 pm. Light food is included with the cost of the event. 
Edg-Clif Farms and Vineyard 
10035 Edg-Clif Drive
Potosi, MO 63664
Community Valentine's Evening at the YMCA Trout Lodge 
February 14
5:15–7:30 pm 
Orchid Nights at the Missouri Botanical Garden
February 14 
6-8 pm 
Edg-Clif Farms and Winery invites you to two special off-site events. Treat your sweetie to a romantic candlelit prime rib dinner with wine tasting and music at the Community Valentine's Evening at the YMCA Lounge, or delight in exclusive lighted viewings of the orchid displays at Orchid Nights at the Missouri Botanical Garden where you'll have the opportunity to sample delicious wines while listening to live music. 
Jowler Creek Vineyard and Winery 
16905 Jowler Creek Road
Platte City, MO 64079
Valentine's Wine & Chocolate Tasting
February 8 – 10, 14 – 17
11 am–5 pm
Nothing says Valentine's Day like chocolate and wine! Enjoy five decadent chocolate desserts with perfectly paired Jowler Creek wines. Reserve your spot on the winery's website. 
 
KC Wineworks
1829 McGee St.
Kansas City, MO 64108
My Valentine is Wine
February 14
4–10 pm 
If Cupid's arrow hasn't made its mark yet, then the My Valentine is Wine event at KC Wineworks is for you. This anti-Valentine's Day themed event will not include V-day decorations, red roses or candle lit moments. Instead, you'll enjoy delicious wines and fun-filled moments with your friends. More details are available on the winery's Facebook site. 
Ladoga Ridge Winery 
100 E. Pope Ln
Smithville, MO 64089 
A Valentine evening with Ben as "Elvis"
February 9
5:30-7:30 pm
Bring your Valentine for a fun and romantic evening in the Hearth Room at Ladoga Ridge Winery. Enjoy a performance by Ben Johnson, a world-wide Elvis tribute artist. Tickets are available at the door and seating is first come. Price includes a limited variety of snacks and hors d'oeuvres. Visit the winery's Facebook site for more details.
Valentine's evening with Taylor Lynn Cullen 
February 16
5-7 pm 
Enjoy a musical performance by Taylor Lynn Cullen, a talented Nashville singer and songwriter. Tickets are available at the door and seating is first come in the Hearth Room. Get more details on the winery's Facebook site. 
Peaceful Bend Winery
1942 Highway T
Steelville, MO 65565
Valentine's Day Dinner
February 14 
5:30 pm, 7 pm or 8 pm 
Looking for a lovely night out with your sweetie on Valentine's Day? Join Peaceful Bend Winery for a fabulous 3-course meal featuring house-made dressings, an entreé course of your choice (steak or seafood pasta) and a dessert course with your choice of cheesecake or black forest cake. Reservations must be made by February 10, 2019. Purchase your tickets on the winery's website, in person in the salesroom, or give the winery a call at 573-775-3000.
St. James Winery
540 State Rt. B
St. James, MO 65559
Progressive Valentine's Dinner 
February 15 & 16
5:30–8 pm 
Bring your date to the Progressive Valentine's Dinner at St. James Winery and Public House Brewing Company on Friday, February 15 or Saturday, February 16. The special evening will feature a gourmet four-course meal expertly paired with St. James Winery wine or Public House Brewing Company craft beer. 
Stone Hill Winery
1110 Stone Hill Highway
Hermann, MO 65041
Valentine's Day Dinner Special
February 14 
3:30-7 pm
Stone Hill Winery will feature a Valentine's Day Special at their Vintage Restaurant. The menu features a house-made warm salmon dip and surf n'turf entrée including shrimp and sirloin, house salad, veggie medley and garlic mashed potatoes. Make sure you leave room for the warm molten chocolate cake. Reservations are required.
Appetizer Special – House-made warm salmon dip
Surf n' Turf – Shrimp skewer w/ 8 oz. sirloin, dry-aged for 35 days
                          House salad
                          Veggie medley
                          Garlic mashed potatoes
Dessert - warm molten chocolate cake
Tipple Hill Winery
10501 US 36
Easton, MO 64443
Date Night at Tipple Hill Winery
February 8 
6–8 pm 
Enjoy a special Date Night at Tipple Hill Winery. The evening will feature Goldie's Farmhouse Restaurant's famous chicken dinner, a glass of wine or beverage of your choice and music by the Lucky Us Band. Visit the winery's website to register.
Valentine's Day Wine & Chocolate
February 14 
1–8 pm 
On Valentine's Day, enjoy a complimentary small plate of various chocolates from Rocky Mountain Chocolate Factory with each in-house bottle purchase at Tipple Hill Winery. 
Twin Oaks Vineyard
6470 Hwy F
Farmington, MO 63640
Valentine's Paint Class with Canvases N' Corks
February 15 
6-10 pm
 
Treat you and your dinner date to fabulous meal, dessert, wine and a couple's painting class at Twin Oaks Vineyard.  Enjoy a fabulous menu featuring a prime rib dinner with mashed potatoes, garlic green beans, rolls, salad and creamy cheesecake topped with the winery's own wine reduction sauce.  After the meal, guests will be guided through painting a beautiful scene on canvas by a local artist. 
Van Till Family Farm Winery 
13986 Hwy C
Rayville, MO 64084
Valentine's Day Winemaker's Dinner 
February 14 
6 pm
Experience the ultimate wine country, wine pairing dinner with your loved one at Van Till Family Farm Winery on Thursday, February 14. Enjoy a four-course wine pairing dinner featuring the winery's award-winning wines and exceptional food prepared by Executive Chef Marc Auriemma and his team. Must be 21-years-old to participate. Seating is limited. RSVP required. Visit the winery's website to purchase your tickets. 
Viandel Vineyard
8381 US 60
Mountain View, MO 65548 
Viandel Vineyard will offer custom wine and spa gift baskets for purchase and delivery. The baskets can be customized to fit any budget and will include a variety of items including your choice of a Viandel Vineyard wine, wine glasses and tumblers, chocolates, plush animal, bath handmade bath fizzies, salt scrubs, body butter, a bath sponge and some chocolates. Order your basket by calling 417-934-0195, email viandelvineyard@gmail.com or message the winery on Facebook.  
Wenwood Farm Winery
1132 Brick Church Road
Bland, MO 65014
An Evening of Truffles & Wine
February 12
4:30–6:30 pm
Be Well Studio 
220 N 1st Street
Owensville, MO 65066  
Everyday Good Life Co-op and Wenwood Farm Winery have teamed up to bring you an evening of wine and chocolate, just in time for Valentine's Day. An Evening of Truffles and Wine features Wenwood's rich and luscious dessert wines and truffles from Westin & Wade Chocolate Company of Kirksville. You'll have the opportunity to sample the delightful combinations, then purchase them in gift boxes, perfect for a Valentine's Day gift. The special event will be held at the Everyday Good Life storefront at Be Well Studio in Owensville.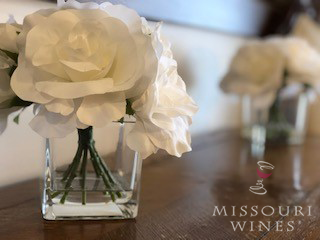 Didn't see your favorite winery? Check your local winery for their Valentine's Day plans as not all events in Missouri wine country are included in this list. And, remember, space may be limited for these special events so book your reservations today. Make Missouri wine country your Valentine's Day destination.