May 08, 2014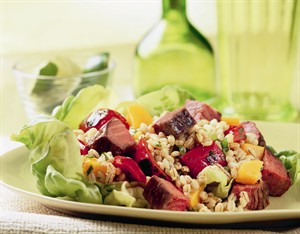 What do a juicy hamburger, a savory steak, and a tender rack of ribs have in common? They are all examples of the many tantalizing forms of beef. May is National Beef Month, so now is the time to celebrate this mouthwatering meat with your favorite Missouri wines.
Beef is flavorful and versatile. It can be enjoyed any number of ways, which gives you practically limitless options for wine pairings. Red wines are commonly matched with beef because their dry and astringent tannins shine when combined with beef's proteins. For instance, a glass of spicy, full-bodied Norton is exquisite with a rich, buttery filet mignon wrapped in bacon. When you dress up a burger with portabello mushrooms and brie cheese, it brings out the earthy, cherry flavors in Chambourcin. If you're craving something sweet, try Concord with succulent slow-cooked barbecued beef sandwiches.
It might seem unconventional, but white wines are also great with the right beef dishes. Serve a floral,  fruit-forward dry Vignoles with a simple, tasty beef stir-fry with bell peppers. Or choose a slightly sweet Traminette to perfectly balance the salt from the stir-fry's soy sauce. The apple and citrus aromas of Vidal Blanc are refreshing with a grilled steak salad loaded with wholesome veggies.
Don't let any leftover wine go to waste. Cooking meat with wine not only adds delicious, complex flavor, but also helps to tenderize the dish. Use a dry Missouri white wine for this rosemary sauteed beef. A dry red is a nice addition to this recipe for beef tenderloin with spring vegetables.
Still hungry? Visit the Missouri Beef Industry Council website for more beef recipes, and Missouriwine.org to select the perfect wine to pair with them.
Missouri wines pair well with beef!