Celebrate the Holidays with Missouri's Seasonal Wines
December 04, 2018
Printer Friendly
This is the time of year when we try to savor every moment of the day, making memories gathered around the table or near a crackling fireplace. Start a new tradition this year or rekindle an old one by adding a seasonal Missouri wine to your celebrations. 
502 E 560th Road
Walnut Grove, MO 65770
7Cs Winery offers a variety of meads this time of year including its Grim Reaper and After Burn, both semi-sweet meads. Look for their Hades Ambrosia's release in the near future.
19203 E. Old Hwy 40
Higginsville, MO 64037 
The staff at Arcadian Moon are currently working on a sparkling seasonal wine. The bubbly will only be available for a limited time.
27150 US 24
Waverly, MO 64096
Baltimore Bend Vineyards offers a well-timed and perfectly named, semi-sweet red wine, Kris Kringle. The Vignoles-Norton blend features cinnamon flavor and is now in its 8th year of production.
23589 State Rte WW
Ste. Genevieve, MO 63670
Crown Valley Winery's Bourbon Barrel Chardonel and Bourbon Barrel Norton take the chill out of a cold winter's day. The Bourbon Barrel Chardonel has a fragrant nose of sweet melon, citrus and vanilla with a smooth caramel pear taste. The Bourbon Barrel Norton has a deep red color that opens up with a rich fragrance of blackberry, black currant & toasted oak for a long lingering finish.
10035 Edg-Clif Drive
Potosi, MO 63664
Hollyberry Red, a semi-sweet Chambourcin with a rich, dark purple color and wonderful blackberry notes, is available at Edg-Clif Farms & Vineyard. The wine includes a gift tag with a mulled wine recipe for holiday entertaining.
31010 W. 124th St.
Excelsior Springs, MO 64024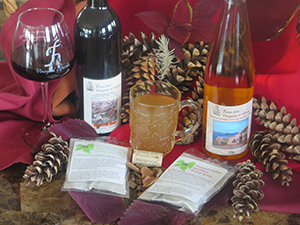 Fence Stile Winery invites you to enjoy FirePit Red and Backpack Red, Chambourcin-based wines blended with Norton. FirePit Red is a full-bodied Norton-Chambourcin balanced with cherry notes. Backpack Red is a semi-dry red wine with notes of cherry, light spice and pomegranate. The winery will release Mure Blanche, a seasonal winter dessert wine made with blackberries and grapes sourced from the estate in February.
16905 Jowler Creek Road
Platte City, MO 64079
Jowler Creek Winery offers several wines released to coincide with the holiday season. Caramel Apple Sangria is available now through Thanksgiving. Cranberry Apple Sangria will be released on Thanksgiving. Enjoy the winery's Wine Hot Chocolate from Thanksgiving through Christmas and its mulled wine from Thanksgiving through Christmas.
LaChance Vineyard's La Trop is a beautifully intense and robust wine. This classic port-style, sweet red dessert wine is of intense dark plum, cassis and blackberry fruit. It pairs extremely well with nuts and soft cheeses as well as chocolate based desserts. 
201 Montelle Drive
Augusta, MO 63332
St. Wenceslaus is a festive holiday tradition at Montelle Winery. This ruby red sweet wine is full of spice and is ready to enjoy right out of the bottle or you can add citrus and spices to give it an extra flair. 
3578 Sand Creek Road
Farmington, MO 63640
Sand Creek Winery invites you to add their Late Harvest Chardonel dessert wine to your festive get-togethers. This wine will be on special at the winery until the end of the year.
If you enjoy everything pumpkin, check out Serenity Valley Winery's Golden Days, a semi sweet pumpkin pie white wine. Another seasonal favorite is the winery's Fiery Opal, a semi-sweet red wine with a crisp tart burst of ripe cranberries. Serve the wine at room temperature or warm it up with mulling spices. Velvet Rhapsody, a semi-sweet raspberry red, is the perfect wine to add to hot chocolate.
620 West Hwy N
Wentzville, MO 63385
Small Batch Winery specializes in small batches of wine including Mary Kathryn's Cranberry. This semi-sweet plum wine has the crisp taste of fresh cranberries harmoniously blended with a fruity, velvety richness. The wine's robust, yet elegant, sweet berry flavors make it a perfect refresher.
540 State Route B
St. James, MO 65559
St. James Winery's Cranberry wine is sweet and tart with bright, festive cranberry colors, aromas and flavors. The seasonal bestseller is available now through December 31. 
10501 US 36
Easton, MO 64443
Tipple Hill Winery's Holiday Cranberry wine is available now through December. You can enjoy this delicious wine on its own or use it to make mulled spice wine. The winery's Chocolate Raspberry is available during the month of February.
Top Hat Winery's Viking, a sweet and tart Cranberry wine is bright with festive cranberry colors, aromas and flavors. This seasonal wine pairs great with holiday meals. 
8381 US 60
Mountain View, MO 65548