May 13, 2023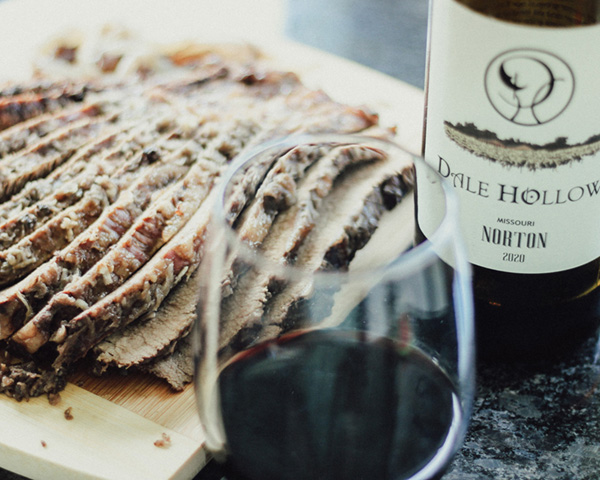 Brisket is one of the most delectable cuts of beef, and a glass of Show-Me State Norton is perfectly enticing. Put the two together in this simple five-ingredient recipe and you will get tender, mouthwatering results.
Serves: 5-6 people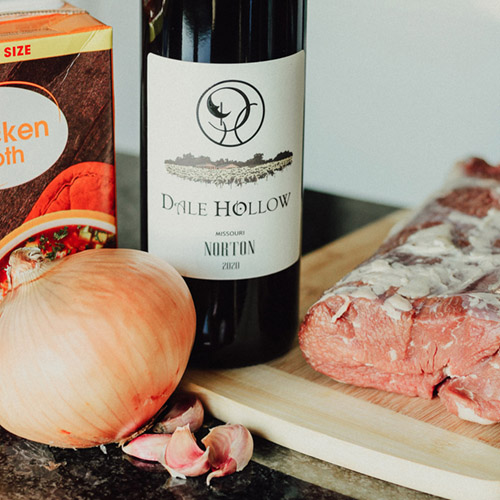 Prep time: 5 minutes
Marinade time: 3-4 hours (or overnight)
Bake time: 3 hours
Ingredients:
4-5 pound beef brisket
1 c dry red wine - we used Missouri Norton from Dale Hollow Winery
½ c chicken broth - substitute with other liquids as desired
1 medium to large onion - one half minced, one half sliced
3-4 cloves garlic, minced
Instructions: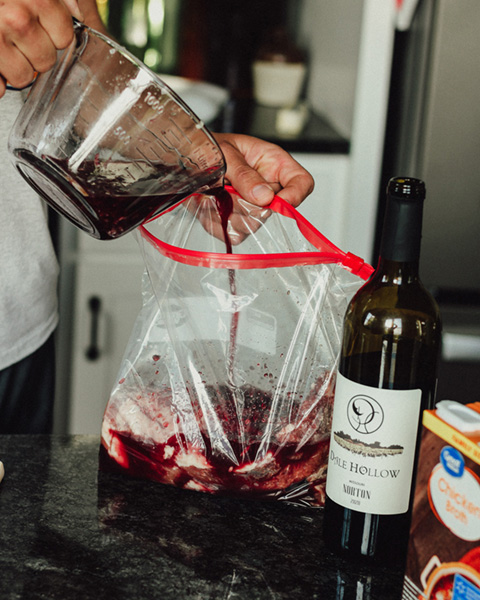 Place beef brisket in a plastic bag or container that will accommodate meat and marinade. In a bowl, combine wine, broth, minced onion and garlic.

Pour marinade over brisket, seal or cover and place in refrigerator for a minimum of 3-4 hours or overnight.

Preheat oven to 325°F. Place brisket in a dish (dutch oven or small casserole pan is ideal), top with sliced onions and pour the marinade over top. Cover with lid or foil and place in oven.

Bake the brisket for 3 hours until tender. Check the level of the liquid halfway through the baking time and add water or broth, if needed, to prevent the brisket from drying out. 

Allow brisket to rest for at least 15 minutes before slicing. Slice across the grain of the meat. Add additional flavor with with sauce, salt and pepper or other ingredients as desired and enjoy!
This simple 5-ingredient brisket is sure to impress a crowd. Enjoy alongside a glass of Missouri Norton and say 'Cheers!' over a delicious meal.