Best Wines for Brunch
March 31, 2015
Printer Friendly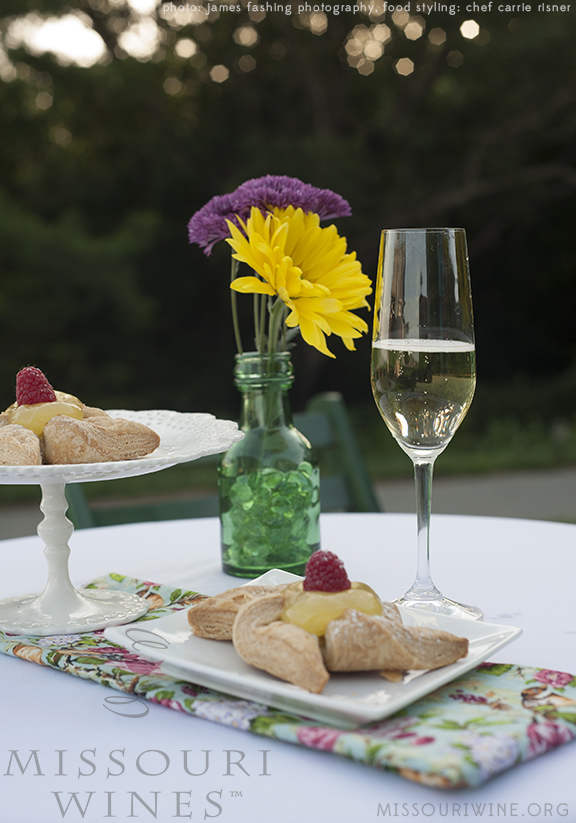 It doesn't have to be five o'clock somewhere to enjoy a delicious glass of Missouri wine. The idea of brunch, a portmanteau of breakfast and lunch, is thought to have been around since the late 1800s and can be as casual or elegant as you like. One thing is sure, adding Missouri wine to your next brunch is a must!
The mimosa is a classic brunch beverage. The most basic mimosa is one part sparkling wine to one part orange juice, but there are a number of delicious variations using grapefruit juice, pureed peaches, etc. You can even create a make-your-own mimosa bar where guests can customize their own beverages. For a list of award-winning Missouri sparkling wines, click here.
The savory stars of the brunch table such as bacon, quiche, and potatoes are great when paired with a glass of Missouri wine.
Bacon, ham and sausage all pair very well with Chambourcin.

Vegetable quiche or egg casseroles pair well with Vidal Blanc or Seyval Blanc.

Cheesy hashbrowns are well suited for a glass of oaky Chardonel or Norton.

Croissants are a perfect pair for a glass of sparkling wine.
Fruit, both fresh and in jams and jellies, commonly makes an appearance on brunch menus and can be a little tricky to pair with wine. Here are some suggestions:
Fresh berries, such as blackberries, blueberries and raspberries, pair well with sparkling wine or Norton.

Fresh strawberries pair well with sparkling wine, Chambourcin or Vignoles.

Fresh citrus and melon pair well with Seyval Blanc or Vidal Blanc.

Fresh and cooked apples pair well with Chardonel.

Darker jams and jellies, such as blackberry, currant and fig preserves pair well with fruit forward reds such as Chambourcin.

Lighter jellies and jams, such as strawberry and apricot, pair will with a lighter, semi-sweet Vignoles or Traminette.

Grape jam is perfectly complemented by a glass of Concord.
Sweet treats are often abundant on brunch menus. Remember when pairing sweet dishes that the wine you pair should match the sweetness level of the dish or it can taste sour or bitter. Baked favorites such as scones, muffins and donuts pair well with a light, fruity white such as Vignoles or Traminette or a sweeter sparkling wine.
Whatever you fill your next brunch plate with, be sure to accompany it with a glass of perfectly paired Missouri wine.
Missouri wine pairs well with brunch!