Behind the Label: Stone Hill Winery's Cross J Norton
January 30, 2020
Printer Friendly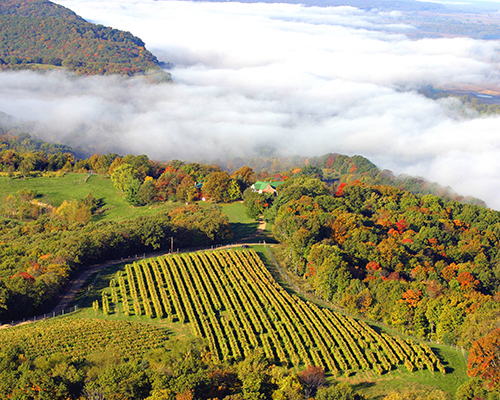 There was a twinkle in Jim Held's eyes, a light that often accompanied a tale as he reminisced on the past. Jim had a hearty laugh and many stories to share, from his early days as a pig farmer to the vital role that he and his wife Betty had in the revitalization of the Missouri wine industry. The former owner of Stone Hill Winery passed away on November 8, 2019. While his light may have dimmed, Jim's presence can still be felt at the winery and in the beloved vineyard surrounding his home. From this vineyard comes a project and wine that was near to Jim's heart. Here's the story behind his award-winning Cross J Norton as told by his son, Jon Held, the current owner of Stone Hill Winery.
"About 23 years ago, my dad was diagnosed with advanced prostate cancer. The doctors told him he had two years to live. Being a person who never gives up, he didn't believe them and sought out alternative medicinal cures along with the traditional medical treatment protocol."
Jim turned to his faith for strength. 

"Because of his faith "awakening" he decided to name the vineyard surrounding his and mom's home the Cross J Vineyard," continued Jon. "The cross being for Christ and the J for himself, Jim. If you look closely at the label, the J is behind the cross to signify his following Christ. With his faith, my dad managed to live 23 years with the cancer the doctor said would kill him in two years. He also managed to fend off leukemia for several years during that time."
A week after his death, Jim's Cross J Norton won a double gold at the Jefferson Cup Invitational Wine Competition, one of the many medals bestowed on his wine over the years. It was a wonderful tribute to a man who had spent his life devoted to not only his winery but the continued success of the Missouri wine industry. 
*photos courtesy of Stone Hill Winery