June 27, 2022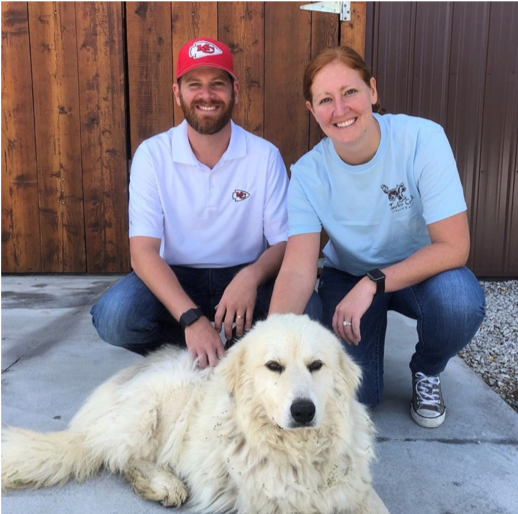 Vidal is a working winery pup and the muse for Jowler Creek Vineyard and Winery's Vidal Blanc label. This loveable hound has greeted guests and protected the winery's resident sheep and chickens for more than a decade, making her a familiar furry face for visitors of this Platte City, Mo., tasting room.
Besides, Vidal, the working winery pup's warm welcome, visitors can expect to see several other critters at Jowler Creek, nestled into the Platte City countryside. Many of these creatures are featured on the winery's bottles, designed by the owners' sister-in-law, Ashley Reynolds, who owns AshleyRenae Design. Ashley's fun designs feature the many animals of Jowler Creek Vineyard and Winery.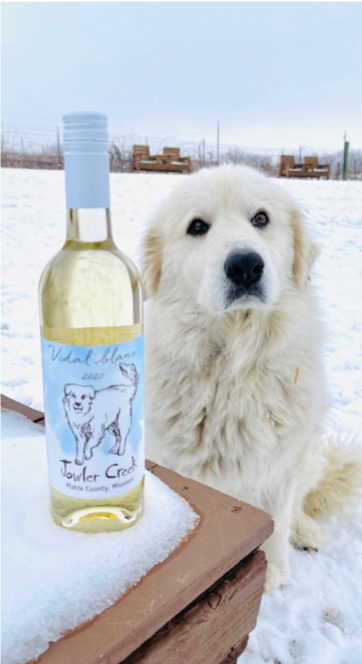 "Each critter or animal on our bottles is a representation of what you might see while you're visiting us," says siblings Jason and Kit Lacy, Jowler Creek Vineyard and Winery owners. "Seeing them reminds us of the peaceful, beautiful, lush vineyard and fields that our winery sits on and feels like home. We hope each person is reminded of that peaceful, fun-loving feeling upon seeing them."
That peaceful feeling has been top-of-mind to the Lacy family at the helm of Jowler Creek Vineyard and Winery. Family-owned and operated since the vines were planted in 2004, Jowler Creek keeps its country feel while constantly expanding in a sustainable fashion.
Jowler Creek is a "green" vineyard and winery certified through the Missouri Agricultural Stewardship Assurance Program (ASAP) across five categories: livestock, energy, specialty crop, farmstead and grassland. This means that wine lovers can enjoy a glass of Jowler Creek wine, knowing it has been made sustainably.
Since the on-site tasting room was unveiled in 2006, the winery has added something new. So, you may notice a new addition to Jowler Creek each time you visit. They unveiled the event center — The Vineyard at J. Creek, this year.
Regardless, if you want to sip Jowler Creek Vineyard and Winery Vidal Blanc to capture the peaceful feeling of the Platte City fields or pair this semi-dry, full-bodied wine's crisp and refreshing citrus flavors with your favorite meal, raise a toast to its namesake – Vidal – the hardworking, lovable canine who helps care for one of the state's most sustainably focused wineries.