When the lights go out at Defiance Ridge Vineyards, there's an old soul that likes to stick around and keep an eye on things. Rain or shine, Heath has been tending to the 42-acre property for the past 17 years. You won't see him behind the tasting bar or caring for vines in the vineyard. You're more likely to find this regular fixture in his natural environment – the winery's lake. Heath is a swan. The beautiful bird has endeared himself to many over the years, so when it came time to select a name for the winery's Vignoles, the decision was easy.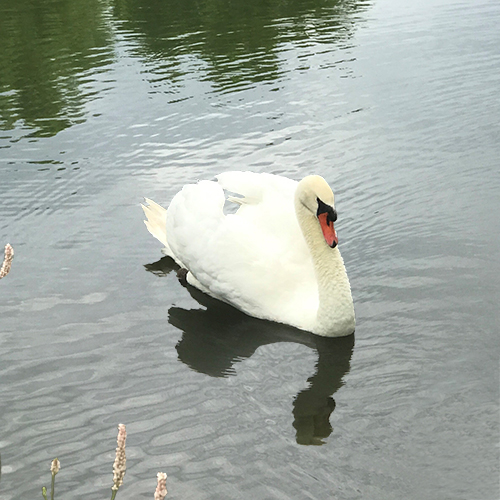 The wine label for Heath's Off Dry Vignoles features the creative talent of two artists. The Vignoles grapevine predominantly displayed on the front is by plein air artist Allison Laupp. The lower-left design, the winery's secondary logo, is by Justin Gillentine. The letters "D," "R" and "V" represent the name of the winery, while the "X" symbolizes the Katy Trail railroad tracks. The arrowhead above the letter "D" stands for the Femme Osage Indian area where the winery is located. A grape cluster completes the label's front design, while a photo of Heath, the winery's mascot, is featured on the back.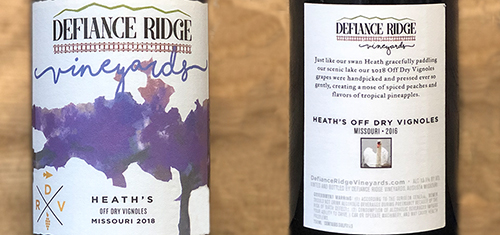 Defiance Ridge Vineyards is easily accessible off Highway 94. The winery is located in a historic farmhouse and features a beautiful view of the Missouri River Valley. Step inside the tasting room and experience delicious wines including Heath's Off Dry Vignoles, a gold medal winner at the 2019 Missouri Wine Competition. Whether you're inside or outside on the winery's terrace or veranda, save room for the winery's mouth-watering vineyard to table cuisine. And, if you get the chance, take a stroll by the lake and meet the infamous bird that inspired the name of an award-winning wine.