Behind the Label: Dale Hollow Winery's Whimsical Art
October 24, 2019
Printer Friendly
Dale Hollow Winery began as a dream, a seedling of hope to repurpose land that had been in the same family for four generations. Once a hayfield, the Dale family farm is now the site of a 15-acre-vineyard where eight varietals of grapes are grown and delicious wines are served in a quaint tasting room in Stover.  
Dale Hollow Winery offers a full lineup of wines, with each bottle featuring original artwork by Beth Dale, the family's matriarch and resident artist. (Look closely at each label, and you will find her initials, "BD," hidden somewhere in the illustration.) From the community's past to a beloved work of fiction, each of Beth's unique illustrations tell a story. These are a just a few.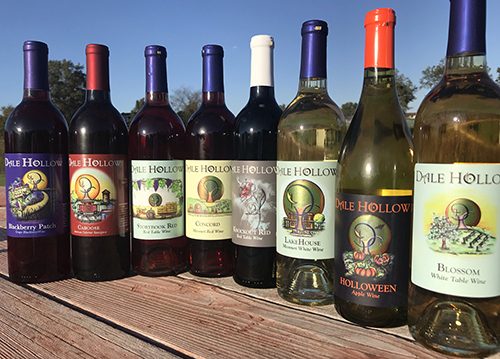 • Beth's illustration of an old tractor and trailer hauling hay bales is a tribute to the farm's past on their "Storybook Red."
• The winery's "Caboose" is an homage to the Rock Island Railroad that once traveled through their hometown. 
• Beth's sons, Jesse and Asher, are huge fans of J.R.R. Tolkien, something she took into consideration when creating the artwork featured on several of the winery's varietals, including their Concord, winner of the best wine in the sweet red category at the 2019 Missouri Wine Competition. While the artwork is loosely inspired by the Shire in "The Hobbit," Jesse says that the scene is even more intimately associated with their winery building - a small earth contact structure built into a hill for function and form.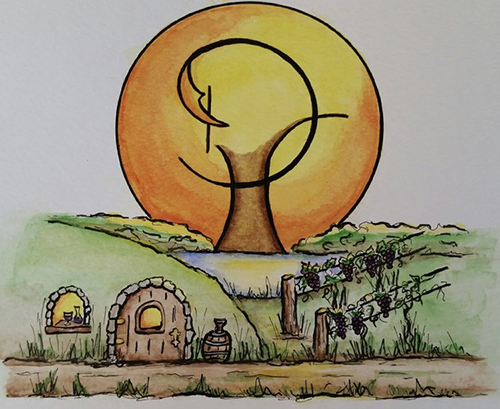 Even the winery's logo has an interesting origin. A crescent moon gives shape to the "D" in the winery's name while a tree represents the "H." The moon is a precious reminder of the days when Beth and her husband Kenny were first dating. When distance separted them they would gaze at the moon at the same time to help them feel closer. 
Early on when the Dale family began laying the foundation for their winery, they decided to create a special place that "captured a bit of the old world charm, a call back to simpler times, a time when people gathered over a glass of wine and experienced genuine cheer." They hope that each visitor who walks through their door receives a warm, inviting experience and that their labels help convey that message.
To learn more about what inspires the artwork on the Dale family's wines, visit the winery's
website
.