Behind the Label: Amigoni Urban Winery's Urban Drover
February 26, 2019
Printer Friendly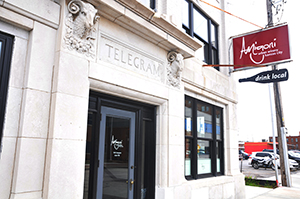 Amigoni Urban Winery is located in the Stockyards District of Kansas City's historic West Bottoms. At the peak of the stockyard industry's success, the area spanned 55 acres and served as a place to hold cattle before they were loaded onto railroad cars.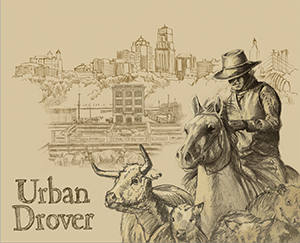 The label on the winery's 2016 Tribute Series – Urban Drover pays homage to the people known as drovers who moved the livestock, sometimes across great distances, to the Kansas City area. The wine label, featuring artwork by Ruthie Osa, is also a tribute to the building that the winery is located in. Constructed in 1909, the building once housed the Daily Drovers Telegram, the daily newspaper for the livestock industry. 
The next time you're in Kansas City, step inside Amigoni Urban Winery and imagine the past as you experience the new. The hum and noises of a bustling newsroom are now replaced by the clinking of wine glasses, corks popping and engaging conversations in the front tasting room. The area where a press once churned out a daily paper now houses the winery's barrel room. And, before you leave, look closely towards the back of the room. You can still spy some ink on the ceiling. Unfortunately, the story of how the ink made its way up there is lost to the pages of time.