August 23, 2016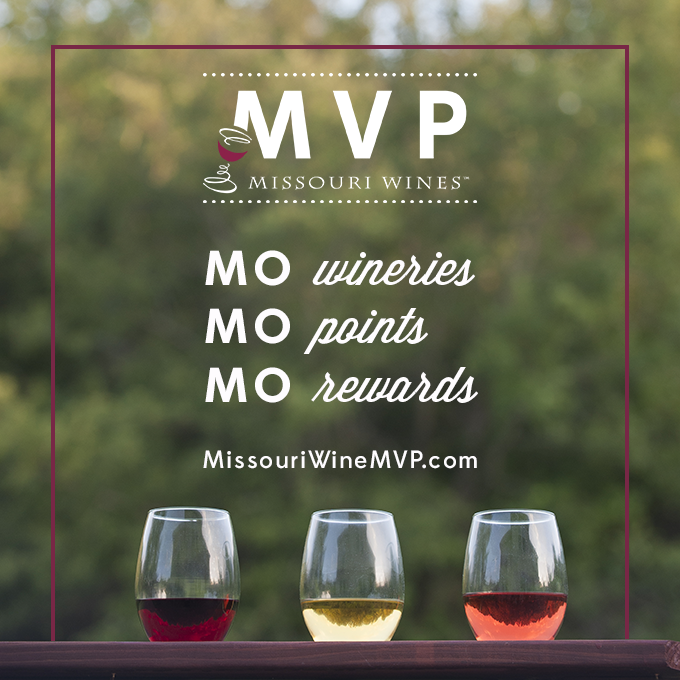 The Missouri Wine and Grape Board is excited to announce the launch of the Missouri Winery Visitors' Program (MVP).  MVP encourages you to visit Missouri wineries where you collect points that may be redeemed for rewards.  The more wineries you visit, the more points you can earn to redeem for rewards such as cool MVP gear, fun wine experiences, and special sweepstakes giveaways!  As if you really needed another reason to explore Missouri wine country…  The program is free to participate and will officially launch on Thursday, September 1st, just in time for Missouri Wine Month!
Ok, so this is how it works.  MVP participating wineries will hand out MVP tickets at their tasting rooms, each with a unique code, which you can collect every time you visit.  These codes are then entered into your MVP account on MissouriWineMVP.com for points.  You can become an MVP by registering an account at MissouriWineMVP.com.  Once registered, we will mail you a welcome packet with a map, program information, and a special gift!  Your first visit to a winery will earn you 500 points, but visits 2 through 10 to that same winery will get you 100 points.  If you continue to visit that same winery more than 10 times, you'll receive 10 points each thereafter.  You only get one ticket per person per winery visit, so keep those tickets safe and secure.  The best strategy to earn points for rewards is to travel around Missouri and discover new wineries throughout the state. 
So, what are you waiting for?  Your vino adventures await you!  Head over to the MVP website to get registered.  Don't forget to sign up for our MVP newsletter to get updates on wineries, rewards, sweepstakes giveaways, and more!  Check out the MVP program Terms and Conditions and FAQ if you want more information.  All MVP points must be redeemed by December 31st, 2017.