August is Peachy
August 26, 2014
Printer Friendly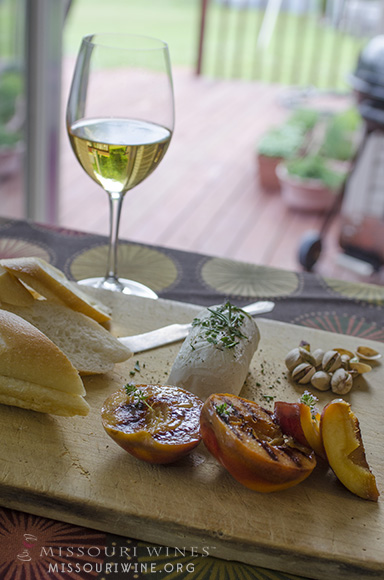 One of the most delightful parts of summer in Missouri is fresh, local peaches coming into season. No wonder August is National Peach Month! The Peach is known as the Queen of Fruit and many bow to her reign of deliciousness. If you're a loyal follower of peach season, read on. This info is for you!
Fresh peaches are a wonderful treat on their own, but add a glass of semi-sweet Missouri Vignoles wine and they're taken to a whole new level. Known for classic desserts such as cobbler and pie, peaches are a staple in most mid-west households and definitely qualify as comfort food. Don't relegate this royal fruit to after-dinner, though. It's good any time of day, and here's a collection of recipes and pairing recommendations to help you enjoy peaches on your plate and in your glass for as long as the season lasts (and maybe a little further too!).
For Brunch:
These make-ahead recipes are a great way to start the day with some delicious fruit and wholesome goodness.
For Lunch:
These fast and easy lunch recipes are a fresh and delicious way to savor the middle of the day. Both call for a balsamic reduction. Amp up the flavor by adding a rich Missouri red wine like Norton to the reduction, instructions here.
Tomato, Peach and Burrata Salad
Summer Peach and Balsamic Pizza
For a Snack (or appetizer!):
This recipe is easy enough to just have at home but beautiful enough to present to guests as a fancy dish. Best of both worlds! Add some thinly sliced or diced peaches to the preserves when making this for an even more peachy dish! Pair with a smooth and fruity Missouri Chambourcin for a surprisingly delicious combination.
Basil, Bacon and Peach Baked Brie
For the Main Course:
Sweet, savory and unstoppable… these recipes are sure to please! Pair with a glass of semi-dry Vignoles wine for a delicious dinner any day of the week.
Grilled Peach, Honey Goat Cheese, and Spiced Pecan Salad
Barbecued Shrimp and Peach Kabobs
For the Finish:
Delightful desserts that are a fun take on classics. Pair with a Late Harvest Vignoles for a photo finish to any meal!
Honey-Roasted Peaches with Toasted-Almond Frangipane
Peach Shortcakes with Lavender Cream
In your Glass:
Peaches and vignoles are such a great pair, why not just put them in the glass together? And don't forget there are some delicious, award-winning peach wines made by Missouri wineries. Look for them in your local retailers.
Make it Last:
Peach season doesn't last forever, but here's a great tutorial on freezing peaches so you can feed your love for the Queen of Fruit even after fall arrives.
Missouri wine pairs well with peaches!