Adam Puchta Winery Celebrates 165 Years
October 01, 2020
Printer Friendly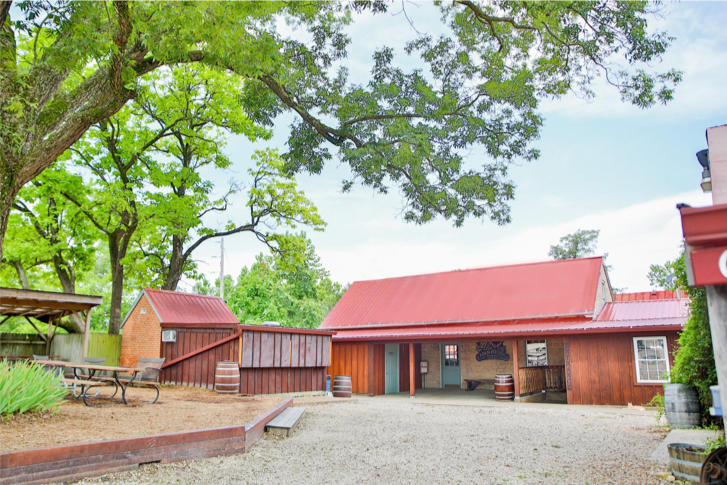 Located along a winding creek in the beautiful Frene Valley just two miles southwest of Hermann, you will find the Adam Puchta Winery (pronounced pook-tah.) Adam Puchta and his son, Henry, founded the winery 165 years ago in 1855. The winery is now run by the Puchta family's 6th and 7th generations, making it the oldest continuously family-owned winery in the United States.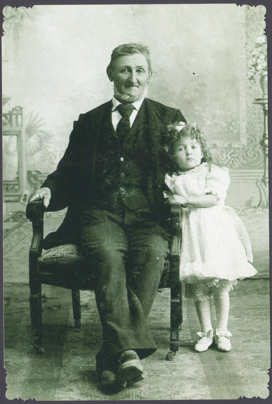 Pictured: Founder Johann "Adam" Puchta and granddaughter Pearl, 1904
In 1990, after prohibition, Randolph (5th generation) and son Tim (6th generation) reopened the winery. Tim, who was once a respiratory therapist, utilized his chemistry and medical background in the winemaking process at the winery. They started by planting three acres of Norton grapes, restored the original wine cellar for use with modern tanks and equipment and renovated the original stone home into a tasting room and gift shop. The following year the winery released its first vintage of Norton, Vidal Blanc and Seyval Blanc. The original wine list consisted of Hunter's Red, Misty Valley, Blush and Adam's Choice, three of which are still available today. In addition to the originals, there are nearly 20 more wine varieties ensuring there's something for everyone. 

Puchta family 6 th and 7 th generation pictured with the 2020 wine offerings.
Left to right: Spencer, Tim and Parker Puchta
Tim Puchta paints a beautiful picture of life at the winery. From working alongside his father, enjoying his mother's delicious cooking, to raising his own children there – two sons, Spencer and Parker. Some of his fondest memories were digging out an old cellar by hand with a pick axe, playing flashlight tag with his boys and enjoying bison and ostrich dinners prepared by his mom. It's no surprise that Tim's sons have a vested interest in the success and future of the winery.  Parker went to culinary school and is now the Operations Manager for the winery, while Spencer, with a degree in hotel and restaurant management, helps out whenever possible getting away from his day job. Both boys were brought up knowing the history of the winery and its importance to the Puchta family legacy ... but also in the wine culture of good food and wine, which was a big part of their everyday lives.

Tim Puchta evaluating the Norton vines in 1996.
There have been many changes at Adam Puchta Winery over the years. What was once a four-person staff is now a team of 15 full time employees. Today, working at Adam Puchta Winery is more than a job. You can make a career there. Other changes include turning the old cellar into a popular bistro, bringing mobile bottling on-site, switching to screwcaps and adding a mobile slushie trailer, an idea brought to life by Parker. The winery is ever-changing with each generation that comes in. They are always looking for ways to work more efficiently and give customers the best experience possible. Tim reminds us that in today's world, it's unique to have something that can be passed down from generation to generation.


Adam Puchta Winery 1979 vs 2020
Many family-owned businesses were affected by the COVID-19 pandemic, but the Adam Puchta Winery found ways to stay afloat. Parker's culinary background and the 1855 Cellar Bistro proved to be a pivotal strength for the winery. When many regional restaurants temporarily closed their doors, the winery's curbside dinner specials became a much-needed resource for the community. Customers could also pick up wine by the bottle, case or their popular wine slushie mixes by the jug. This unfamiliar time allowed the winery to restructure and get creative,while utilizing their ample outdoor seating in a manner by which patrons were still able to visit while social distancing. In fact, people road-tripped from hours away to sit back, relax and enjoy a glass of award-winning wine.

Adam Puchta's expansive wine offerings, 2020
Adam Puchta Winery knows how to throw an event. Many of their happenings are annual and include special wine dinners, holiday celebrations, festivals and their very own Doe Camp. Doe Camp is a fundraiser that helps to raise money to support local residents who have been afflicted with cancer and has been doing so for 10 years.

Sharing samples of the newly released Mull It Over seasonal spiced wine.
There are many accomplishments and accolades for the Puchta family to be proud of.  However, for Tim, it's not just about the hundreds of awards won, but it's the history itself and the ability to carry on the legacy of fine winemaking, that makes him most proud. It is a big deal and cause of much elation to be celebrating the winery's 165th anniversary during the month of October 2020. The celebration starts with Grill Your Own Steak Night and Fish Fry and will include wine specials and just overall good fun throughout the month.  Guests will have the opportunity to purchase a limited-edition, special anniversary release of "1855," their sherry style wine, while supplies last.

Limited edition 1855 sherry to commemorate the 165 th winery anniversary.
What does the future hold for Adam Puchta Winery? A wine club will soon launch and Parker has dreams of creating a wine library that club members will have special access to. There is definitely a big vision for the future and while we wait to watch it unfold one thing is for sure, the Puchta legacy will continue to live on and customers can continue to experience and appreciate their love of family.
Photos courtesy of Adam Puchta Winery.