7 Reasons to Visit Missouri Wine Country
September 03, 2020
Printer Friendly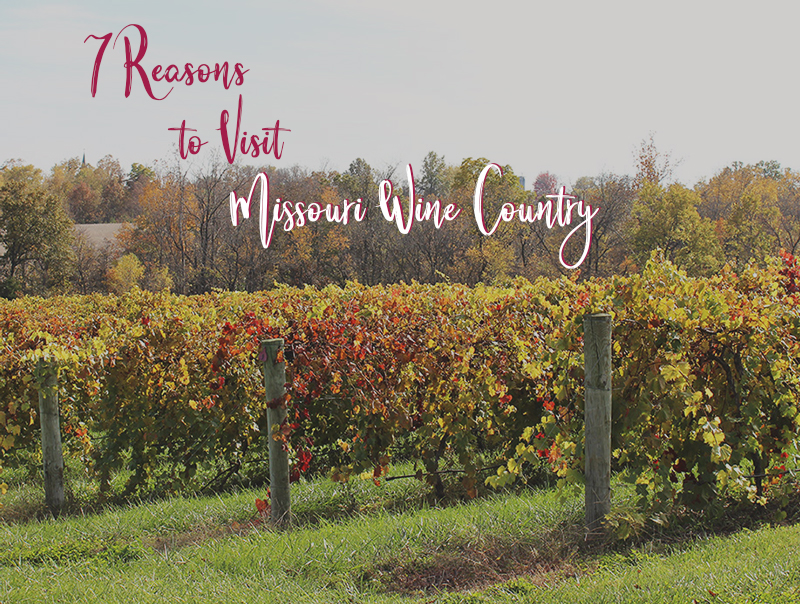 September is Missouri Wine Month, and a perfect opportunity to explore Missouri's unique wine country. We've got seven reasons why you need to visit Missouri wine country this month – or any time of year!
1. Palate-Pleasing Wines for All
Missouri's award-winning wine lineup is sure to be a crowd-pleaser. Whether you prefer sweet or dry wines (or something in the middle,) there's a Missouri wine you'll love. If you have a penchant for fruit wines or meads, there's plenty of wineries that offer them. Searching for slushes or craving a canned concoction? Missouri wine country offers vino in a variety of vessels. From standard varietals like Norton and Vignoles, to proprietary blends and dessert wines, the options are endless. Learn more about Missouri's grape varietals here.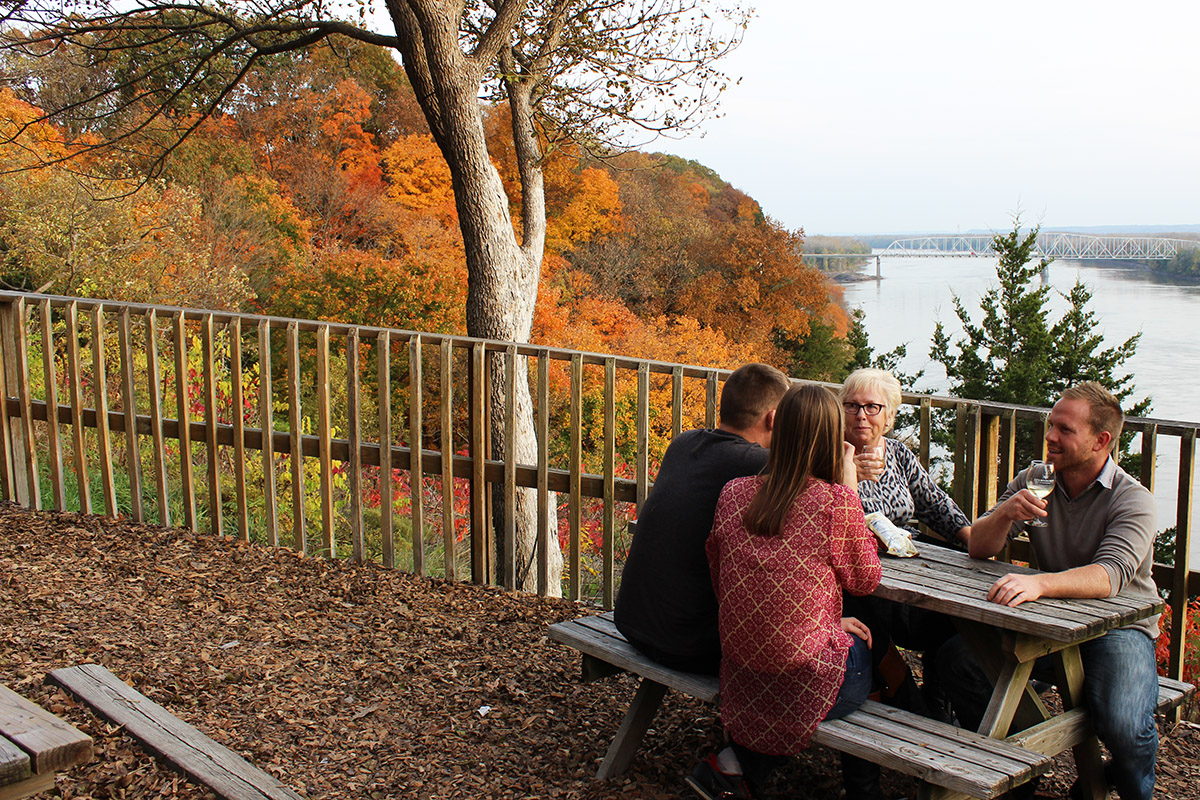 2. Unbeatable Views and Seating
Wineries across the state offer spacious seating and unbeatable atmosphere for guests to enjoy fresh air, clear skies and great company. Sip delectable wines among expansive gardens, along the bluffs of the Missouri River, or amid scenic views of foliage and vineyards. Even from cozy indoor seating areas, guests can enjoy Missouri wine country's breathtaking scenery on crisp fall days. Our amenity listings for all 125+ Missouri wineries can help you plan your next excursion to take in the sights and sips at the winery of your choice.
3. Experiences That Excite
Where else can you play disc golf, enjoy wine in a cave or take in scenic views? Only in Missouri wine country. Besides award-winning wines, Missouri's wineries offer attractions and opportunities that excite and amaze. Pools, chess boards, boat access and more await you in Missouri wine country. Looking for some behind-the-scenes action or education on how your favorite varietal gets from vine to wine? Many wineries offer exclusive tours and educational events to expand your wine wisdom.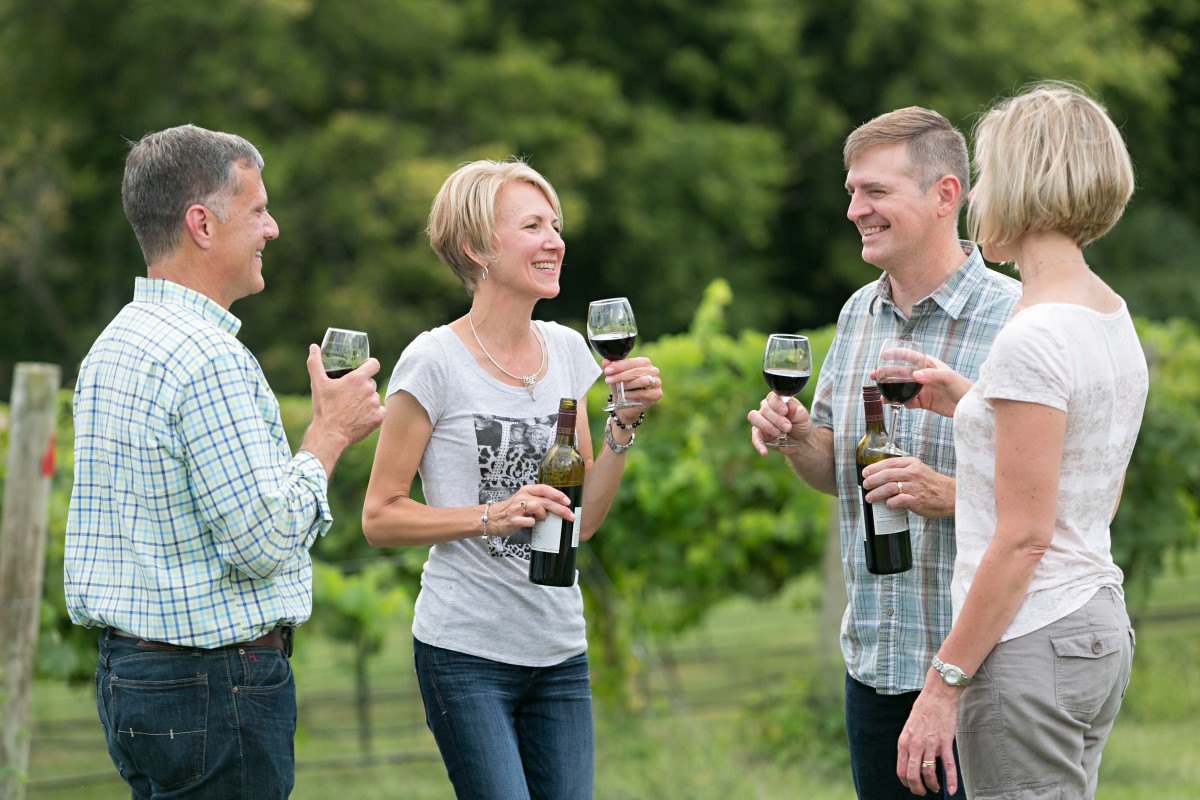 4. Events, Festivals, and Trails, Oh My!
Whether you're looking for an evening out of the house or a weekend-long excursion, there's always something to do in Missouri wine country. Check out one of our 11 wine trails to discover a pre-planned wine adventure. Do festivals, fairs or live music fit your style? Many wineries offer these events and much more – check out the event calendar on our website, or follow your favorite winery on social media to learn more. Stop in for a crush festival during harvest season, or sip and shop during a holiday event in Missouri wine country.
5. Staycation Escapes
Need a break from the daily grind, but don't want to travel far? Missouri wine country offers ample accommodations to fit your needs. Enjoy the personal touches and proximity to nearby wineries by sipping and staying local. Picturesque cottages, villas and bed-and-breakfast facilities welcome visitors for a relaxing and rejuvenating experience. For those on the adventurous side, treehouse abodes, camping facilities and spooky stays may be just what you're looking for. To learn more about lodging options in Missouri wine country, make sure to take a look at your copy of the latest Missouri Winery Guide.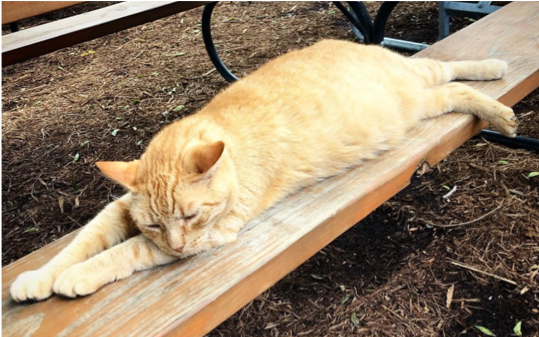 6. Pals and Paws Welcome
Missouri wine country is the perfect getaway for pals and pets alike. Missouri wineries are a great place to gather with friends and enjoy award-winning wine together. Celebrate friendships new and old, and meet other Missouri wine fans on your next visit to a winery in the state. Missouri wineries are also a great place to interact with Missouri wines' furry fans – a number of wineries are pet-friendly, and some locations even have their own resident pets. Where else can you enjoy your favorite wine with your two- and four-legged friends? Pet-friendly wineries are denoted with a paw icon in our Missouri Winery Guide.
7. Patronage Perks with MVP
Did you know that you can earn rewards for exploring Missouri wine country? With the Missouri Winery Visitors Program (MVP,) you have the opportunity to earn points for your patronage of participating wineries. Those points can be redeemed for exclusive rewards, experiences and sweepstakes entries available only to MVP members. Learn more and sign up to be an MVP before your next excursion to wine country.
Now is the perfect time to get out and visit Missouri wineries. Take a trip to a winery near you, or one that's been on your Missouri wine country bucket list, and make unforgettable memories. Make sure to share your adventures on social media using #MOWines and keep sipping local!