Left Section
CABERNET FRANC
OVERVIEW:
Cabernet Franc is a well-known grape that originated in France in the 17th century. The grape's ability to adapt to various soil types allows it to be grown in many parts of the world.  
PRONUNCIATION:
Kah-behr-neh Fronk
Acres in Missouri:
3.7 acres
Flavors or tasting notes:
Cabernet Franc provides classic fruit notes of strawberry and black cherry in addition to hints of roasted pepper and tobacco.
Taste Profile:
The grape typically produces medium-body dry red wine with balanced acidity and firm tannins.
Ideal Serving Temperature:
Chilled to 65°F
Food pairings:
Lamb, duck, turkey, roasted pork, Feta, Brie, Boursin, red sauce with fresh herbs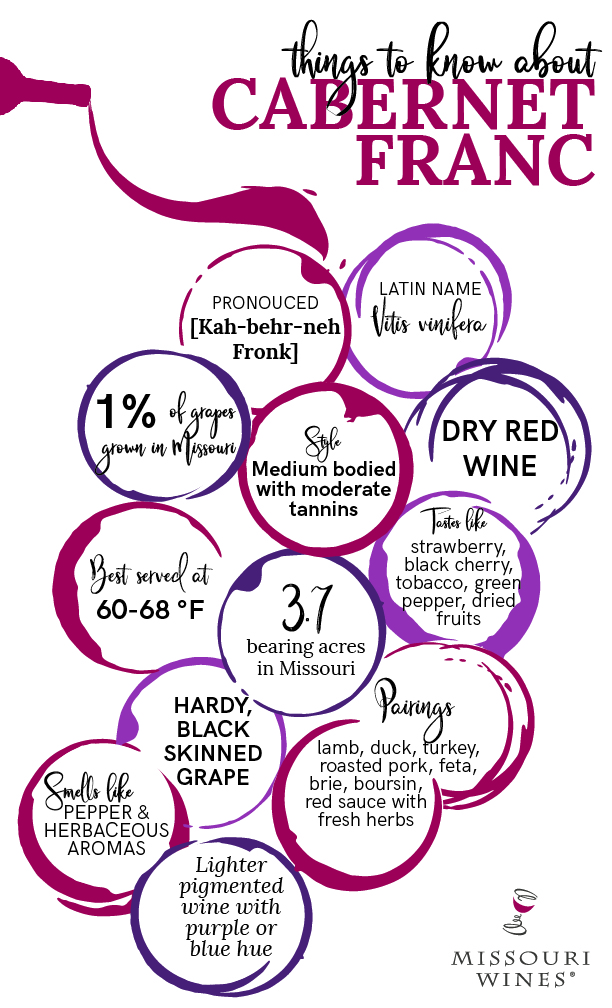 Right Section
SPARKLING WINE
OVERVIEW:
Missouri's sparkling wines range from dry to sweet, white to rosé, and can have a light to medium body. Many of the Show Me State sparkling wines utilize Méthode Champenoise, meaning they are made in the same traditional method used in Champagne. This process is completed with a secondary fermentation within the bottle. This fermentation creates carbon dioxide – the fine bubbles we all love. 
Ideal Serving Temperature:
30 to 40 minutes in ice or three hours in the refrigerator. The ideal temperature to serve sparkling wine is around 40 to 45 °F
Food pairings:
Fried Chicken, Havarti cheese, oysters, popcorn, fresh berries