Left Section
CABERNET FRANC
OVERVIEW:
Cabernet Franc is a well-known grape that originated in France in the 17th century. The grape's ability to adapt to various soil types allows it to be grown in many parts of the world.  
PRONUNCIATION:
Kah-behr-neh Fronk
Acres in Missouri:
3.7 acres
Flavors or tasting notes:
Cabernet Franc provides classic fruit notes of strawberry and black cherry in addition to hints of roasted pepper and tobacco.
Taste Profile:
The grape typically produces medium-body dry red wine with balanced acidity and firm tannins.
Ideal Serving Temperature:
Chilled to 65°F
Food pairings:
Lamb, duck, turkey, roasted pork, Feta, Brie, Boursin, red sauce with fresh herbs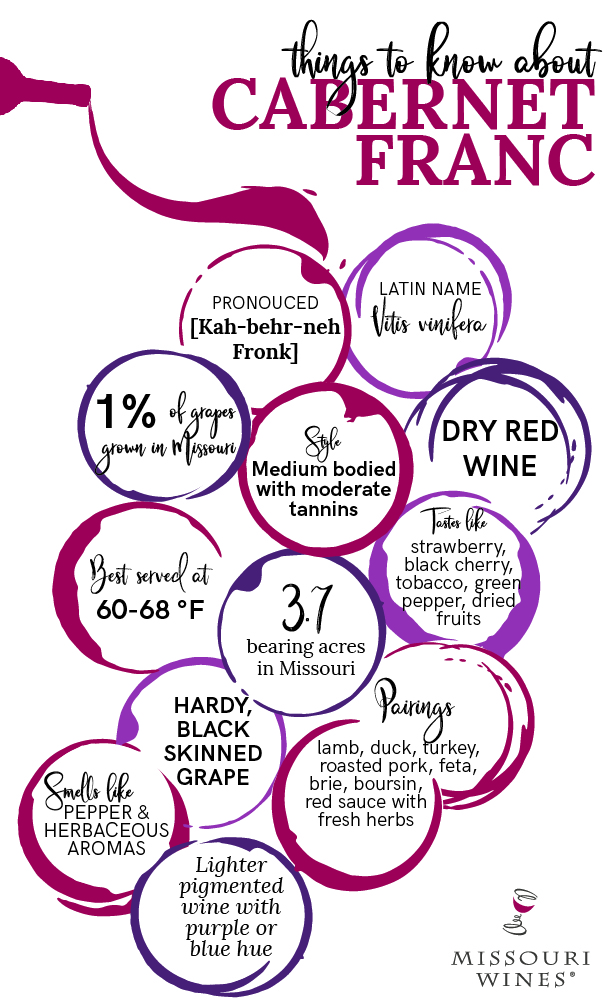 Right Section
ROSÉ
OVERVIEW:
Rosé wines are made in many different styles even including sparkling and canned with sweetness levels ranging from dry to sweet. The signature pink color of a rosé wine is a result of limiting the amount of time the juice is in contact with the grape skins during fermentation. Since each winemaker has their own timing when it comes to making rosé wines, you will see a range of stunning colors and taste a variety of delicious styles in the Show-Me State.  
PRONUNCIATION:
Row ZAY
Acres in Missouri:
Rosé wines can be made from a multitude of grapes. Winemakers in Missouri frequently use Chambourcin, Norton, Catawba and St. Vincent.
Flavor Tasting Notes:
The unique flavors, aromas and characteristics of rosé wines vary based on the grapes used, but overall, they are light and fruity.
Ideal Serving Temperature:
Chilled to 50-55°F
Food pairings:
Rosé's light, fruity nature makes them a great pairing for many different foods.