Left Section
CABERNET FRANC
OVERVIEW:
Cabernet Franc is a well-known grape that originated in France in the 17th century. The grape's ability to adapt to various soil types allows it to be grown in many parts of the world.  
PRONUNCIATION:
Kah-behr-neh Fronk
Acres in Missouri:
3.7 acres
Flavors or tasting notes:
Cabernet Franc provides classic fruit notes of strawberry and black cherry in addition to hints of roasted pepper and tobacco.
Taste Profile:
The grape typically produces medium-body dry red wine with balanced acidity and firm tannins.
Ideal Serving Temperature:
Chilled to 65°F
Food pairings:
Lamb, duck, turkey, roasted pork, Feta, Brie, Boursin, red sauce with fresh herbs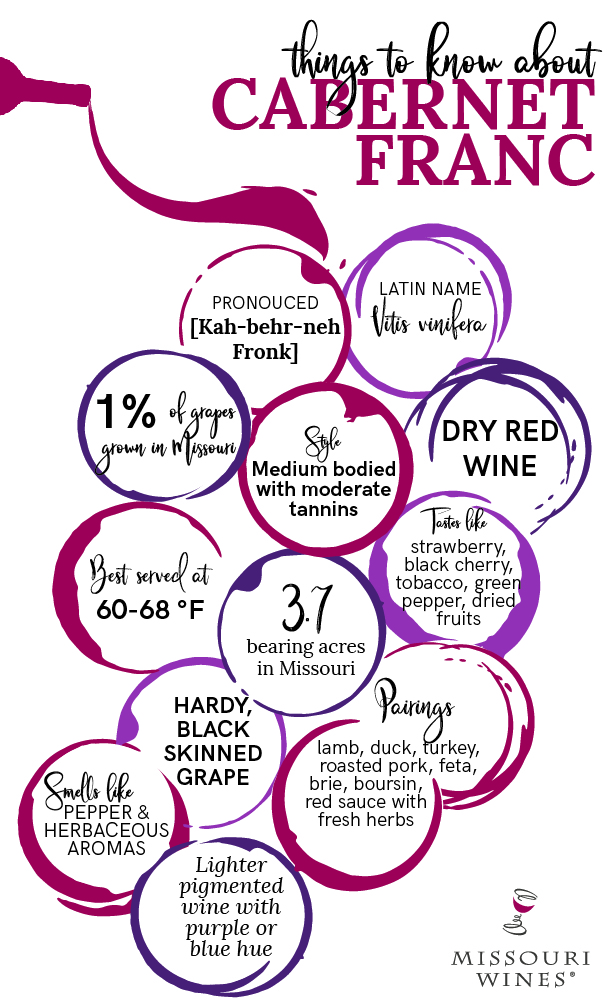 Right Section
RED BLEND
OVERVIEW:
Bottles labeled as a blend refer to wines made from blending two or more varieties of grapes together. Winemakers in Missouri frequently use Norton, Chambourcin, St. Vincent, Cabernet Franc and even Concord. The different grapes are often processed and fermented separately then blended together at later stages. Blending grapes can add complexity and balance while enhancing aromas, finish and mouthfeel.
Ideal Serving Temperature:
55-65°F
Food pairings:
The best pairing will likely depend of the particular style of the wine. A heavier red blend may pair well with steak or lamb. Consider pairing a medium-bodied red blend with pizza or pasta.