Holiday Craft Ideas with Missouri Wine Bottles
December 10, 2019
If you're brainstorming ideas on how to decorate your place this holiday season, we have the perfect project for you. Turn your empty bottles of wine into a decorative centerpiece. Although there are a plethora of ideas online, we've included a select few that are fairly simple and don't require a ton of art supplies to get you from start to finish.
Winter Wonderland Display
Source: carolaucourant.com/diy-wine-bottle-christmas-display [1]
Craft supplies
• 2 to 3 wine bottles
• Epsom salt
• Spray adhesive
• White primer
Even if it's not a winter wonderland outside, you can still create the perfect snow setting. This easy-to-do craft requires only a couple of craft items and wine bottles. An ornament and candle will add a nice touch to your beautiful display. Pro tip: consider featuring different sizes and styles of wine bottles for a more visually interesting look.
The Grinch Wine Bottle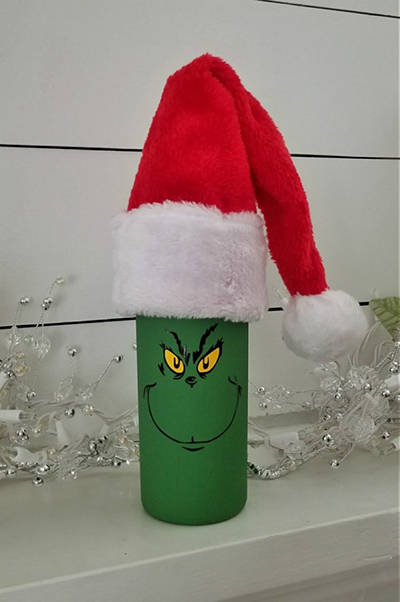 Full tutorial @ leapoffaithcrafting.com/diy-grinch-wine-bottle-tutorial [2]
Craft supplies
• Wine bottles
• Green paint –chalk or glass enamel
• Yellow enamel paint
• Foam brushes
• Santa hats
• Sharpie markers (black)
If you're a fan of the Grinch, give this whimsical project a Whoville whirl. You'll end up with a fun craft that will quickly become the talk of your holiday get-togethers.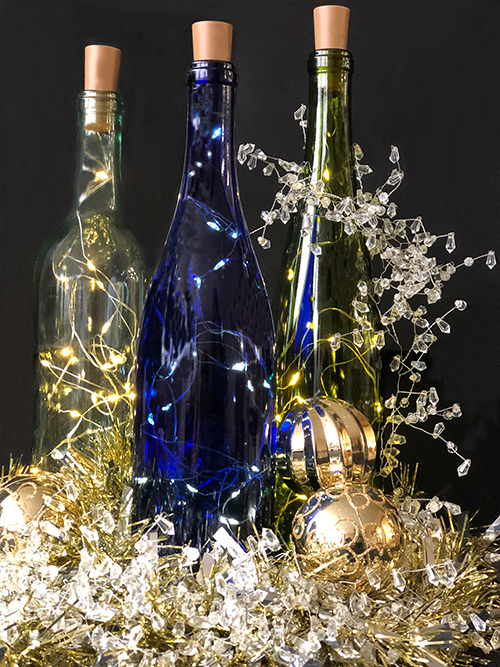 Wine Bottle Lights
Craft supplies
• Small lights
• Empty wine bottles
One of the easiest DIY wine bottle projects only involves a wine bottle and sprig of lights. This project captures the magic of the holiday season in an elegant, understated way. Of coure, you can always up the "wow" factor by adding a little pizazz to your display.
Menorah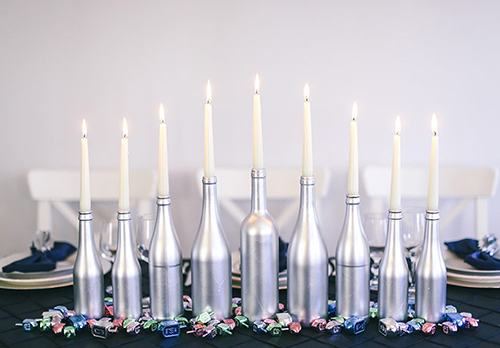 Source: ideas.evite.com/slide/beautiful-diy-menorahs/ [3]
Craft supplies
• 9 wine bottles
• 9 candles
• Spray paint
Celebrate Hannukah this year with your very own Menorah. Spray paint empty wine bottles and top them with candles. Whether you choose to go with a silver or gold motif, this craft will be a lovely centerpiece during the festival of lights.
Feeling more ambitious? Go online for additional projects that will test your creative skills. From Santa's signature red suit to candlesticks and even a wine bottle Christmas tree, a little time and effort can help make your holidays merry and bright.